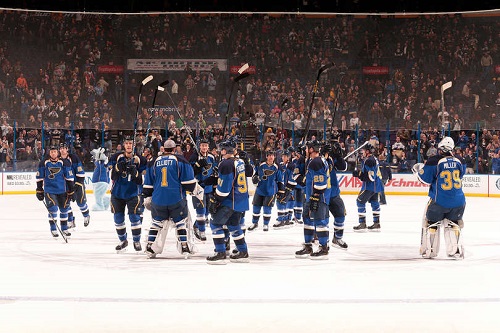 In case you didn't already know, the St. Louis Blues have recently traded for a few new players. Scratch that, everyone is trading players. As the dust settled in Phoenix, Ryan Miller and Steve Ott joined the Blues for their first game against the Coyotes since the break. And yet, Blues fans will sorely miss our bartered Blues, goaltender Jaroslav Halak and forward Chris Stewart. Good luck in your endeavors, boys.
But our hearts were hopeful when Miller took the ice last Sunday, stopping nearly 30 shots on goal, leading the Blues to a 4-2 victory. Blues fans welcomed feisty forward, Steve Ott with equally open arms. His no-nonsense style on the ice will fit right in with our guys.
Miller said of Ott, "He's going to play hard, he's going to be scrappy." And on Ott's arrival in St. Louis, Miller said, "I think this is his style of hockey. The guys will take to him real quick and the other team will not like him even quicker." Well Mr. Miller, we're ready to test your theories.
When asked about his own trade to St. Louis, Miller was more hesitant. He said it was "harder than he thought…to say goodbye to Buffalo." And that he was "forever grateful to the fans and the organization." I respect him more for saying as much; and I am sure his fans in Buffalo miss him as well.
Ryan is still hopeful for his future with the Blues, even with his contract nearing it's end. There are continued rumors of the 33 year old goaltender sticking with the Blues for even longer. Miller doesn't seem to be opposed to the idea as he said playing with the Blues is a "great opportunity" where he can "play great hockey and have a chance to contribute."
After winning two games with the Blues, one in Phoenix and then his first (new) home game on March 4th, Miller seems to get along great with the guys, stepping into his new jersey with ease. This is also not Miller's first time in a Blues jersey. As a kid, his favorite goalie was Curtis "CuJo" Joseph, who played for the Blues for the first six years of his career. Now that's a guy Blues fans can get behind.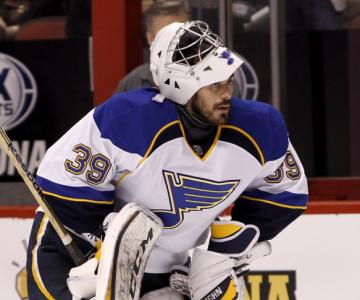 Ryan isn't the only one with ties to St. Louis, either. Steve Ott already has a major league fan rooting for him. Left-handed pitcher for the St. Louis Cardinals, Kevin Siegrist, grew up in Buffalo and still attends games whenever he can. Siegrist, the lone Sabres fan in St. Louis, gave a "thumps up" to the trade and is excited to see both Miller and Ott in St. Louis.
In the past three seasons, only two goalies have faced more shots than Miller. He's endured 40-plus shots in a game 10 times over in the 2013-1014 season so far, the second highest number after Maple Leafs goaltender, Jonathan Bernier (11 times).
Between the two games with the Blues, Miller has taken 42 shots on goal, stopping 38 shots. Fellow Olympians and frontmen for the Blues have finally broke free of their sluggish start, winning back to back games, both 4-2; Berglund, Steen, Oshie, Tarasenko and Shattenkirk all scoring (some more than once) to take the wins. I'd say, the boys are back in town.
After the Fat Tuesday game, Miller told reporters, "The guys really stepped up and helped me along. It was a little bit of stress, but a lot of fun to play with [them]."
A little bit of stress and a lot of fun. Sounds like great hockey to me.
The next Blues game is Thursday March 6th against the Nashville Predators at 7:00 PM.