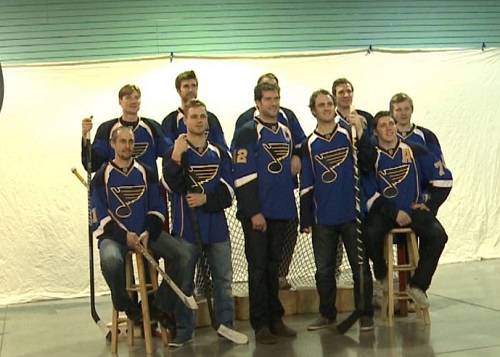 The St. Louis Blues could not have had a better send off to Sochi than their 4-3 victory against the Winnipeg Jets Saturday afternoon. The players wanted to go into the Olympic break with their spirits up. I'd say, the Blues accomplished their goal.
After Saturday's game, the Blues are 7-3 in shootouts for the season. Even more impressive, after Saturday's game the Blues have taken first in their division. The Blues are technically tied at 84 points with the Chicago Blackhawks, but St. Louis takes the lead because the Blackhawks have played three less games.
The Blues are also tied with the Chicago Blackhawks and the Detroit Red Wings for the most players going to the Olympics, with 10 players selected. Vladimir Sobotka is still an Olympian in my eyes, even if he won't be able to play.
It will be fun for all hockey fans to watch their favorite players pitted against each other for their respective countries. I'm anxious to see United States player and St. Louis Blues favorite, T.J. Oshie up against Slovakia with Jaroslav Halak in goal. Oshie was interviewed after Saturday's shootout win against Winnipeg and asked how he felt going up against [other] goalies.
"It's something I've always had fun doing. You just try to switch it up," said Oshie. "I know [goalies] watch video just like we do. I just try to be unpredictable out there."
United States will play Slovakia first in the Men's Olympic Hockey Games.
Of the men that are going, David Backes, T. J. Oshie and Kevin Shattenkirk will play for the United States; Alex Pietrangelo and Jay Bouwmeester will play for Canada; Alexander Steen and Patrick Berglund will serve Sweden; Vladimir Tarasenko will play for Russia; and Jaroslav Halak will serve as goalie for Slovakia.
Backes, Halak and Bouwmeester will be participating in their second Olympic Games. Backes and Halak played in the 2010 Games and Bouwmeester in the 2006 Torino Games.
Blues General Manager, Doug Armstrong was asked to comment about so many of his players going to the Olympics.
"We're really excited to have players there, and I think it's going to be great for us in the long term to have these guys experience this high level of hockey and competition," he said.
The Blues players have already taken to Twitter and other social media, posting pictures of their journey to Sochi. And I for one, cannot wait to see them in action. USA, all the way!