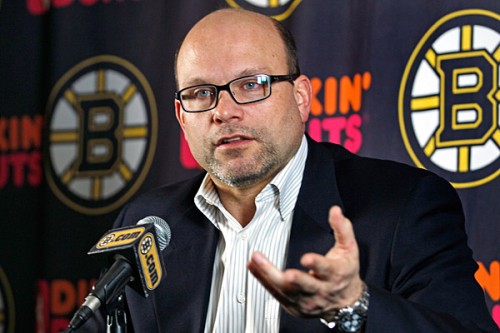 There's been talk in the media about why the Bruins should trade a top six forward like Brad Marchand for a two-way defenseman who can get the puck from one end of the ice to the other consistently- something the Bruins struggled do against Montreal. Fluto Shinzawa of the Boston Globe wrote on May 15, "The best way to defend is to spend minimal time in the defensive zone. Dougie Hamilton is good at triggering the transition with a seam pass or a puck-pushing rush. Torey Krug can do it, too. The Bruins require another defenseman with a similar tool kit."
Since then, the idea has trended among bloggers. Keith Yandle and Alex Edler are the names being dropped on the internet.
But let me tell you why most trade package options are irrational for the Bruins this summer. Of this current Boston Bruins roster, one that won three Game Sevens on its way to a Stanley Cup in 2011 and nearly got out of Game Six against Chicago in last year's Final, eight players- Johnny Boychuk, Kevan Miller, Torey Krug, Matt Bartkowski, Tuukka Rask, Brad Marchand, David Krejci and Patrice Bergeron- played at least half a season in Providence, most of them around 100 games or more. Don't forget about Adam McQuaid, who many think Miller made obsolete in the post-season this year. He paid his dues down there, too.
So I think that when people say it's time to trade Marchand because he's been awful in the playoffs for the past two seasons (20 post-season game scoreless streak beginning in spring 2014), they're really calling for Bruins GM Peter Chiarelli to make a rash decision before he even takes a look at what young players are down in Providence. Boston has had too much success in recent history with their minor leagues to make hasty trades this summer.
And if you look, you've got at least one option in David Warsofsky. In 134 AHL games with Providence, the 24-year-old has totaled 48 points. This past season, he scored two points, a goal and an assist, in six games with the NHL team. At 5-foot-8 and 173 lbs, he's built a lot like Krug. If he were to gain some experience next season, he could turn into a capable sixth defenseman.
With a lot of teams, you might say it's better to roll the dice with a trade. New York Rangers president and general manager Glen Sather has torn apart his team over and over again since he took over in 2000. I'm not saying that's a bad thing. After all, New York is in the Finals this year, even if it is against a guy who was part of one of those many Sather deals, Marian Gaborik.
The Bruins don't need to break things up every other year like the Rangers have, though. If you're a betting man, you'll want to put your money on a Providence Bruin. It seems that every other year a new defenseman comes out of the AHL to help the Bruins in the post-season, whether it's Boychuk, McQuaid, Krug or Miller. The Bruins have a good track record with minor league defensemen development, so it just seems likely that Chiarelli could find yet another gem for a third pair defenseman.
The fact that the Bruins are talented enough to win their division next year without making any changes at all to their roster makes for all the more reason that they should stick with their team as it is and give a guy like Warsofsky a try next season. If it doesn't work out with him, they're probably still near the top of the standings come March, and there will likely be someone on the market that Chiarelli can trade for. He's got a pretty good track record at the deadline. In the very least, as with Tomas Kaberle, a bust in 2011, he's willing to make a move and bring someone in. At best, he snags a Mark Recchi or a Dennis Seidenberg. It's true that he was conservative at the trade deadline this past season, bringing in over the hill Andrej Meszaros but keeping the roster in tact for the post-season, but since Chiarelli is one to at least try and make a bold move- he traded Phil Kessel, and then traded Tyler Seguin, two transactions that require testicles- he'll probably learn from his mistake in 2015.
There's one trade I'd make in a heartbeat this summer, and that's trading Malcolm Subban for a guy like Keith Yandle or Alex Edler. If Massachusetts born, 27-year-old Yandle played alongside Zdeno Chara, Dennis Seidenberg, Boychuk, Krug and Hamilton, then the Bruins would be set defensively and there would be absolutely no more excuses for players like Marchand or David Krejci, who also had no goals in this past post-season, to hide behind the lack of puck movement in the playoffs like has happened in the wake of the loss to Montreal. You'd have the perfect balance of heavy hitting and offense on the blue line. When you've got Rask locked up for eight years, you know that you're probably not going to see Subban in a Bruins uniform, at least not if he's as good as they think he is, so you might as well deal him now while his value is still high at the age of 20.
Bottom line: there isn't a reason to dump one of the top six forwards just yet. If you can keep Marchand, promote a guy like Warsofsky and discover that he's got what it takes to make it as the third pairing defenseman they need, then it will be well worth it.
If no one from Providence works out by the trade deadline, then you're still probably in the hunt for first place in your division again, and you've got pieces that you can package in March. Unless someone says they'll send you a Yandle for Malcolm Subban, Chiarelli, don't make a move this summer.