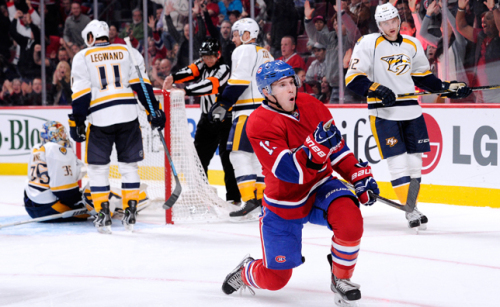 There have been some examples where you can question whether or not a general manager overvalues one of his players and as a result pays him higher than his market value. This is a situation where a player saw his value in a similar manner to that of the general manager and as a result they were able to come to terms on a contract extension. It's difficult to pinpoint a player of Gallagher's style's worth on a team for multiple reasons. The first reason is because a lot of his value may not come up on the score sheet and that makes it difficult to assess his worth. What Gallagher is, is simple, he's going to pot his 20 goals every year and put up over 45 points but this isn't where his true value lies. Gallagher's value lies in his effort level and willingness to drive the net and play till the whistle (okay I lied, he likes to play after the whistle too).
You will not see Gallagher take a shift off and he is often the glue guy that every team needs in order to get a line going. His energy level resembles that of a Tasmanian devil and his effort on the ice is second to none. He may not be the biggest player on the ice coming in at 5'9, but you won't find a player with more heart. His energy and character allow him to win puck battles that someone his size has no business winning, and that is what makes a player like Gallagher so special. Gallagher signed an extension of 6 years with an average annual value of 3.75 million per season. With core players Max Pacioretty, Carey Price and PK Subban locked up for the foreseeable future, look for young star forward Alex Galchenyuk to get signed in the coming months. Whether Galchenyuk receives the PK Subban bridge deal in order to fully prove that he is more than just potential or he signs a long term deal, we will soon find out. With a young core signed, look for the Canadiens to be competitive in the wide open Eastern Conference for years to come.
With up and coming youngsters such as Sven Andrighetto, Michael McCarron, Jacob De La Rose, Charles Hudon, and Nathan Beaulieu coming in waves to the Canadiens NHL club, look for the Canadiens to continue getting younger and more skilled. Trevor Timmins, the Canadiens head scout continues to shine and find diamonds in the rough, as Sven Andrighetto was passed over in 2 drafts and Charles Hudon was selected in the middle rounds. In order to build a successful franchise, you have to find talent in the later rounds. Trevor Timmins, known for taking skilled players over those with size, has nicely filled the Canadiens cupboards with a mix of size and skill, which should be refreshing for Canadiens fans that complain about the lack of size the team ices.
The signing of Brendan Gallagher is one of Marc Bergevin's many savvy moves of 2014. Marc isn't one to beat around the bush as a general manager. If you earn your ice time and are beneficial to the team, you will receive job security and a nice pay day as a result. Bergevin has made his mark on this Canadiens team and we are beginning to see the positive effects that his moves and drafting have on hockey's most storied franchise.
Love Reading About Hockey?

Subscribe to keep up-to-date with the latest and most interesting hockey news!
| | |
| --- | --- |
| | We hate spam just as much as you |