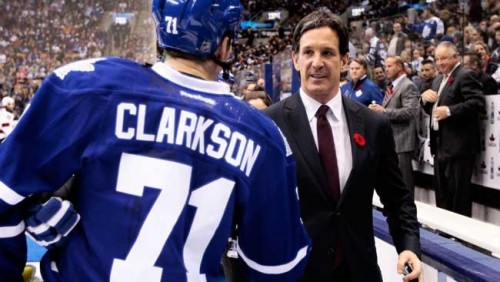 With the Toronto Maple Leafs officially out of the postseason and fans now in a state of depressed confusion, it only seems fair for the team to start ripping itself apart.
The Leafs have named Brendan Shanahan as their newest team President and Alternate Governor, this coming just one day after ex-Canucks player and beloved British Columbia resident Trevor Linden was appointed as the new Canucks GM.
I'm seeing a pattern here…I'm also looking at you Boston, Tampa Bay, and Colorado.
This may be a step in the right directions for the Leafs as the physical play they had implemented during the shortened season has all but been replaced by a speed game that hasn't worked.
The now ex-director of player safety is ironically the only player to score more than 600 goals and log over 2,000 penalty minutes. Just imagine the talking-to Shanahan could dish out to the likes of Clarkson and Orr. The Toronto-Boston series from last year was the epitome of hard-hitting, bone-breaking hockey. Toronto needs that intimidation back in their arsenal.
It wouldn't hurt to see this happen at the Air Canada Centre every now and then. Keep and eye out for the Shanman:
The recent Hall of Fame inductee is no stranger to winning. Over his playing career he's acquired three Stanley Cups, a gold medal at the 2002 Salt Lake City Olympics, gold at the 1994 World Championships and gold at the 1991 Canada Cup. His hard style of play coupled with overwhelming success speaks volumes to a fan base that hasn't seen their team do well in years. It's now obvious that MLSE CEO Tim Leiweke's goal is to drastically alter the makeup of Toronto sports in attempt to win it all. As his career suggests, Shanahan is not afraid to get his hands dirty and do what needs to be done. As long as he sticks to that and doesn't try to reinvent himself, this could work.
Handing out Shanbans during his stint in the NHL front office may also prove to be beneficial to the Leafs. Shanahan, only 45, is still pretty young and is accustomed to how much the game has changed over years; he knows how the league operates and where it plans on going. Who better to improve the Leafs than a man on the inside?
However, his experience in a club level management position is non-existent. Despite all the possible upsides, this is still Toronto we're talking about. This isn't the place for rookie GMs to break into the league and see what works. You're here to address a legacy of losing and neither the fans nor media will let up until there is success.
Again, this Hall of Famer brings with him three Stanley Cup rings, but all from a franchise that Leafs fans hate. As a one of their biggest rivals, it may seem odd for the Leafs to bring in a successful name from the Detroit Red Wings to manage the team. His only tie to the Leafs is that he's from Mimico, Ontario. It will be interesting to see how the Leafs' faithful will react to his first unfavorable decision as president.
Prediction: Shanahan is forced to come out of retirement to drop the gloves in Maple Leaf Square.
Leafs fans would rather forget this late-season collapse, and perhaps bringing in Shanahan is a sign of more changes to come. This doesn't change where the team currently sits however, and this may just be a move to keep the faith with fans. Things are still up in the air about how much impact Shanahan will have on the team's future.
Brendan Shanahan will be officially introduced on Monday April 14, 2014 at 11am.
Here's hoping the Shanman drops the puck on a new stage of Leafs hockey.