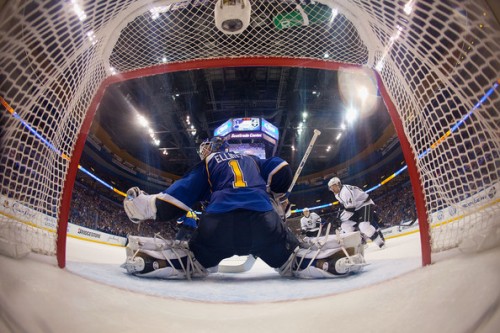 The St. Louis Blues aren't wasting any time, making changes for the 2014-2015 Season. Last week, the club announced Hitchcock's extension into the next season, as well as a new addition to the coaching staff with Kirk Muller. Kirk will be joining the team as an Assistant Coach.
General Manager, Doug Armstrong, proudly announced this new addition last Tuesday, saying Muller "
was a Stanley Cup-winning player, and as a coach, has shown excellent communication skills and the ability to relate to both young and veteran players."
Muller left the Carolina Hurricanes to join the St. Louis Blues in hopes of bringing a new perspective to the club. The Ontario native is one of 27 NHL players to have at least 900 points and over 1,200 penalty minutes during his career as a player.
And as of Monday May 19th, the Blues have re-assigned

goaltender

Brian Elliott to a three-year contract. Another Ontario native, Elliott happily announced his stay with the Blues, taking his thoughts to twitter, letting his followers know, "t
hanks to the fans and people of St. Louis for making my decision to stay with the Blues easy…
(I'm) proud to play for the Blue note. #bestfans."
I might be biased, but I have to agree. We may have lost the battle this round, but Elliott has high hopes for the Blues and is committed to the team. Brian Elliot has made appearances in seven seasons overall, in the NHL, with 25 shutouts in 235 career regular season games, and a cumulative record of 116-77-23. He will be teaming up with goaltender Jake Allen next season and Ryan Miller, unfortunately will not remain with the club.
After a less than satisfying end against the Chicago Blackhawks in round one of the playoffs, both Miller and the Blues seem to want to part ways. This is not to say that Miller is to blame for the lackluster playing against Chicago, but a collective effort just wasn't there. These were Armstrong's thoughts as well. After a conference call to announce Elliot's extension, Doug made it clear the decision to cut ties with Miller was not solely because of his plays, but a consequence of the club as a whole.
It is time "we adjust and move forward," Armstrong said during the call.
The Blues as a whole need to make changes to improve their offensive plays and goaltending. Ryan Miller will be considered a free agent as of July 1st. Miller professed his admiration for the Blues and the time spent with the club, and we, as the classy fans we are, should do the same.
With new coaches, rotating goaltenders and most likely a few surprising trades, the Blues can come back next season with a fresh mindset to beat their unlucky Stanley Cup record.