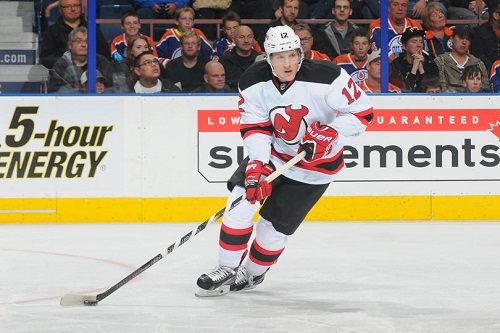 The Devils have started the season 0-3-3, the worst start in franchise history, but they've managed to snag three points which puts them in fifth in the Metropolitan Division.
Not the start I imagined they'd have but it's not as bad as it seems.
Six players have scored New Jersey's 11 goals, including a team-leading three goals from right winger Damien Brunner. The Devils newest addition also leads the team with five points, as he's added two assists, and also has taken a team-high 20 shots. The Devils new players have accounted for seven of 11 goals and four of 18 assists (11 of 29 points): Brunner's three goals and two assists, plus two goals and an assist from Jaromir Jagr, two goals from Michael Ryder, and one assist from Ryane Clowe.
Additionally, the Devils veterans have rounded things out as Patrik Elias has two goals and one assist, Dainius Zubrus and Adam Henrique each have a goal and an assist, Marek Zidlicky has a team-high four assists, Anton Volchenkov and Travis Zajac have two assists apiece, and Bryce Salvador, Andy Greene, and Andrei Loktionov each have notched one assist.
Brunner notched a two-goal game against the New York Islanders – the Devils' only home game of the season thus far – and scored his third goal against the Edmonton Oilers, for the Devils' only power play goal this season. However, New Jersey lost both of these games in a shootout, and Brunner is 0-2 on shootout attempts. As a team, the Devils are 0-8 on shootout attempts, which is absolutely abysmal. It's all well and good that they've earned two points in those two games, but ineptitude on the shootout is inexcusable. Whether you're a fan of the shootout or not, it's a part of the game and not only did New Jersey go scoreless, but their attempts didn't even really come close.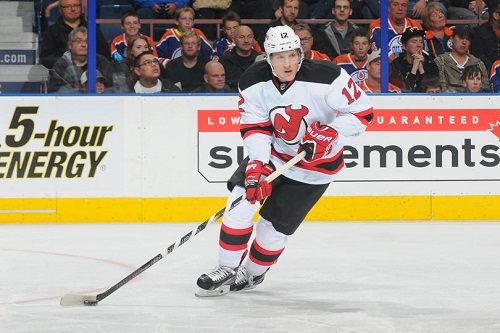 That being said, it's a good sign that the Devils are scoring as much as they are in regulation. Of course, heading into this season I talked a lot about how New Jersey's top three scorers over the past two seasons had signed elsewhere, as did basically every other media outlet. I was a bit more optimistic about the Devils new forwards being able to fill the admittedly large holes on the offensive lines, and while New Jersey has been outscored 21-11, most others that I talked to and read articles by believed that the Devils wouldn't be able to score at all.
Despite New Jersey allowing Edmonton to score four goals in the third period, it's encouraging that they can score important goals, like Elias's short-handed goal with 53 seconds to go against the Oilers to send the game to overtime. The Devils went 0-2 in the ensuing shootout, then went on to give up a two-goal lead in an eventual 3-2 OT loss to the Vancouver Canucks followed by giving away two one-goal leads in a 3-2 regulation loss to the Calgary Flames.
The whole giving-up-leads-in-the-third-period thing needs to stop. Martin Brodeur has a save percentage of .878 as he's allowed 10 goals on 82 shots in three games played, while Cory Schneider has a slightly better percentage of .908, having allowed eight goals on 87 shots. That puts the Devils goalies in 45th and 42nd in the league in save percentage, respectively; seriously, you have to click to page 2 of the goalie stats on the NHL's website to find them. Not good.
I won't point fingers at one or two facets of the Devils game, but even though they are still winless after Sunday night's 3-0 loss to the Winnipeg Jets, I'm not having a panic attack just yet. There have been some positive plays, some dirty goals (I'm looking at you, Ryder), and some really solid saves by both Brodeur and Schneider. But, it hasn't been enough to get the Devils a W.
New Jersey closes out its five-game Canadian road trip against the Ottawa Senators on Thursday, then finally returns home to face the New York Rangers on Saturday night.
They have to find a way to hang on to their leads and play a full hockey game through regulation to get their season on track.
Plus/Minus: In one of the more interesting stats, defenseman Zidlicky has the second-most points on the team with four, all on assists. Racking up the help on scoring is a great thing for the Devils, but I don't think the errors Zidlicky makes on defense – presumably his main focus as a defenseman – warrant keeping him on the ice. One play doesn't necessarily define a player, and Zidlicky certainly wasn't the only guy out of position on the Flames' game-winning goal on Friday (cough cough, Salvador, cough), but that play is more of the same from Zidlicky. Sure, he has a strong slapshot and has proven that he can add a little pop especially on our power play, but I don't think his style of play helps the Devils anymore; in fact, I think the exact opposite. The Devils would benefit more from a defender who was in the right position at the right time more often than not, rather than one who is trying to create more offense, and while I don't pretend to know who would fit the bill in this regard, Zidlicky's style might not last long with this year's team.
Love Reading About Hockey?

Subscribe to keep up-to-date with the latest and most interesting hockey news!
| | |
| --- | --- |
| | We hate spam just as much as you |