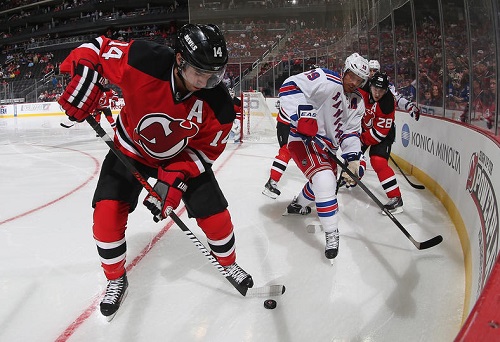 The headline that I'm most looking forward to writing this season is: Devils Secure Their Return to the Stanley Cup Playoffs.
Head coach Pete DeBoer said on Wednesday that the Devils are capable of winning a Stanley Cup. Nothing gives you quite as much confidence as your head coach saying something like that on the record, and I happen to love his aggressive confidence. That being said, I'll leave my predicted headline as is–the Devils will make the playoffs this season, after missing them for the second time in three seasons.
I've talked to a bunch of hockey fans about this during the offseason, and while none seem to believe that the Devils have what it takes (especially a certain Bruins writer, ahem), when I look at New Jersey's roster, I see the potential for more than just a mediocre season. Yes, Ilya Kovalchuk left. I know. The Devils signed him to be a goal-scorer and while he did do that, he didn't do it quite as prolifically as I'd hoped. He scored some absolute monster goals, for sure, but he still never felt like a New Jersey Devil.
In an effort not to digress too much here, the primary reason I think the Devils will find their way back to the playoffs is that general manager Lou Lamoriello has beefed up the roster on both ends of the ice.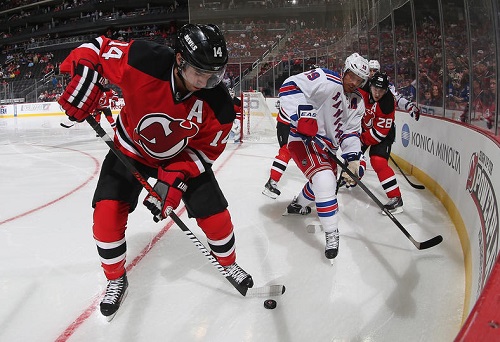 Obvious statement? Maybe, if you've been paying attention, which most non-Devils fans haven't been when it comes to New Jersey.
Following the much-discussed trade for goaltender Cory Schneider at the 2013 NHL Draft, Lamoriello made the most of what the Devils had available to them as he re-signed Devils veteran forwards Patrik Elias and Dainius Zubrus; signed the legendary forward Jaromir Jagr; locked up forward Adam Henrique; and invited forward Damien Brunner to a pro tryout and eventually inked a contract with him, too.
Schneider has shown nothing short of solid play in front of the net in the preseason. He stopped 80 shots and allowed just one goal in the four games he played, including recording a 3-0 victory over the New York Islanders at their future home, the Barclays Center in Brooklyn. But that's not enough for Schneider, as he continues to say the right things, too; he's consistently vocalized the things he needs to work on after each game, demonstrating an endless desire to improve his play. The Devils need that hard work, that attitude. Schneider has the potential to be a leader on this team, regardless of his time on ice stat, which is a nice contrast to, say, Kovy's attitude. (Don't digress… don't digress…)
Not to be ho-hum about Elias and Zubrus, because securing them both for the next three years was a smart move, but there was never any doubt in my mind that Lamoriello would keep these staples in New Jersey. Elias has been incredibly consistent throughout his 15 years with the Devils, including last season when he finished with the most points on the team (36; 14 goals, team-high 22 assists) for the eighth time in his career. Zubrus was injured for half of last season, but a healthy Zub is a good Zub: in 2011-12 he recorded 17 goals and 27 assists in the regular season, his best tally yet.
Moving on to Jagr, yeah, I know, he's "old," but I'll take an old Jagr over most NHL players any day. Do I really need to sum up his career here?
Henrique signed a vital contract this summer to stay in New Jersey for another six years, and he has his work cut out for him. He finished last season tied for third on the team in goals with 11 (with Kovalchuk, mind you), which is good even factoring in the fact that it was a short season due to the lockout, but not great. In his first season in the NHL, Henrique had an explosive year up front for New Jersey. He finished fourth on the team in points with 51 (16 goals, 35 assists) and tied an NHL record during the playoffs in scoring two series-clinching goals, both of which were in overtime. Heading into the 2013-14 season, Henrique now has the opportunity to return to form with both veterans and Devils newbies.
Brunner, the newest of noobs, has proven that he can contribute to this team as he tallied one goal and two assists in the preseason. While yes, it's only been the preseason, Lamoriello signed him to a multi-year deal and as previously mentioned, Lamoriello's track record speaks for itself.
It's difficult to say how Brunner, Jagr, Schneider, and the rest of the new additions to the team will play together once the games start to matter, but what all this really boils down to is that Lamoriello has created an impressive amount of depth during this offseason. That includes some of the players that didn't quite make the cut for the NHL roster: D Alex Urbom, D Eric Gelinas, D Jon Merrill, F Stefan Matteau, F Rod Pelley, F Tim Sestito, F Mike Sislo, G Scott Wedgewood, G Keith Kinkaid.
I like the way the Devils have looked, though, and the upgrades Lamoriello has made to the roster in light of recent departures have me feeling confident that New Jersey will pull itself up from last season's disappointing finish.
Mark my words: the Devils will make the playoffs this year
Love Reading About Hockey?

Subscribe to keep up-to-date with the latest and most interesting hockey news!
| | |
| --- | --- |
| | We hate spam just as much as you |