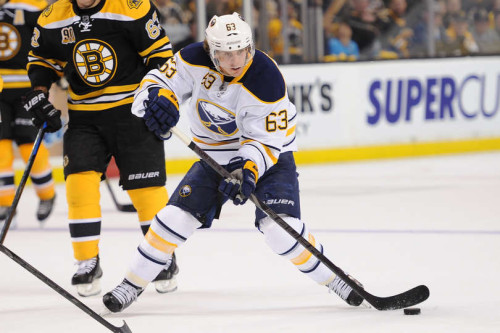 The Buffalo Sabres are not quite done signing free agents yet. The Sabres re-signed forward Tyler Ennis to a 5 year deal worth $4.6 million annually. They also re-signed defensemen Chad Ruhwedel to a 2 year deal worth $650k annually.
Ennis was the Sabres first round pick in the 2008 NHL Draft. In 2009 with the Rochester Americans, Ennis was the AHL's top rookie. He scored 23 goals and had 42 assists. He is also a two-time 20-goal scorer. In 267 career games, all with the Sabres, his stat line is 69G-97A- 166 PTS.
Ennis is a good two-way player. He has excellent speed and great stick-handling ability. Ennis also does a great job setting up his teammates. With the rebuild in place, he will be part of the Sabres "new" core.
Ruhwedel made the jump from UMass-Lowell to the Sabres during the 2012-2013 season. Last year he spent most of the year with the Americans where he recorded 24 assists in 47 games. With his good hockey sense, he is an intriguing prospect in a stacked defensive corps. He will challenge for a spot with the Sabres but will most likely start the year with Rochester.