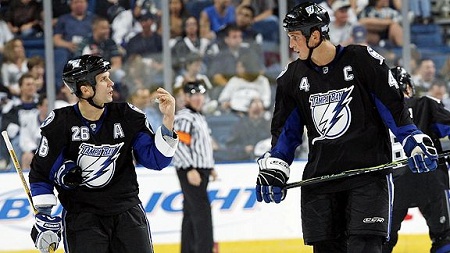 So, I've decided to change the name of this recurring column to "Burning Questions." I didn't really think "Greatest Fears" had quite the same ring to it, but let me know what you think down in the comments.
Anyways, in light of the absolute stoppage of CBA talks on top of the already-occurring work stoppage, I have decided to ask Burning Question Number Two:
Have we seen the last season of solid production from Martin St. Louis and Vincent Lecavalier?
Just as this is a two-part question, I will give a two-part answer. I'll start with Marty, or Old Reliable (as only I call him). He will be 38 years old at the start of next season assuming it starts in 2013. While some hockey players can last into their 40's (see: Nicklas Lidstrom), it is common knowledge that most players began to wind down their careers when they near the age of 40.
At the moment however, I'm not too worried about Marty. Old Reliable has put up over 25 goals and 49 assists in each of the last nine seasons, barring his 30 assist year in 2005-06. Nonetheless, since the beginning of that nine-year stretch in 2002-03, St. Louis has missed just seven games.
Seven. Out of 738. Five of the games he missed came last season after he suffered a freak injury to the face from a flying puck.
So, I'd argue he's pretty durable. And durability combined with consistency makes a great player. That's what Marty is, a great player. Although he'll wind up with one less season of statistics on his trading card, I'm not too worried about where he will be physically and mentally when the season finally does kick off.
Then, there's the Captain. Old number 4. Vincent Lecavalier, the Lightning's first overall draft pick in 1998, will be 33 when the season kicks off next year. The only problem is, Vinny has looked older than Marty for the last couple of years despite St. Louis being five years his senior.
Lecavalier has seen declining points, assists, shots, and games played totals since the 2009-10 season. He has looked a step slower at times and missed over 17 games each of the last two years.
However, Vinny's stick-handling is as deft as ever and his hit totals and shot percentage have continued to see an increase in the last two seasons. It seems to me that his struggles can be largely contributed to fighting through injuries for the sake of his team. With a year off to fully recover, I believe he will come back healthy and ready to go in 2013.
There's no doubt in my mind that the Captain will see an increase in production when the Lightning finally do return to the ice. I think he's got a few more solid years of production still in his bones.
If you have burning questions, shoot me an e-mail at tgaines@tampabay.rr.com or tweet me @GainesTaylor.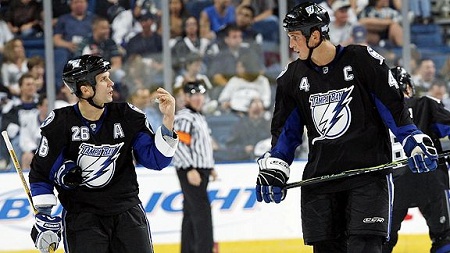 AHL Update
Following back-to-back losses on October 27 and 28, the Crunch rebounded and rattled off three straight wins before falling 5-2 to the Rochester Americans…The Crunch (7-2-1-1) sit in a tie for second in the Eastern Conference with 16 out of the possible 22 points through their first eleven games…Ondrej Palat has the longest assist streak in the AHL with one in each of his last five games…The Crunch begin a brutal back-to-back-to-back Friday night against the Hershey Bears in the second game of a three-game home stand.
Love Reading About Hockey?

Subscribe to keep up-to-date with the latest and most interesting hockey news!
| | |
| --- | --- |
| | We hate spam just as much as you |