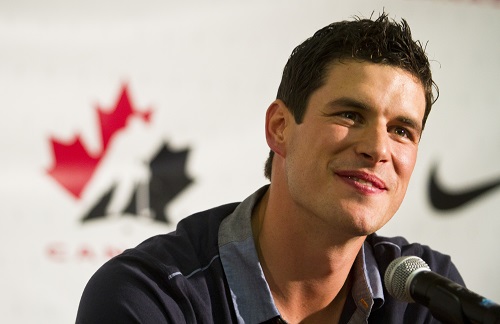 Sidney Crosby will be at the helm of Team Canada next month in Sochi, serving as captain. Jonathan Toews and Shea Weber were named as alternates.
"Playing for Team Canada, playing in the Olympics is a great opportunity," Crosby said following Penguins practice. "But being able to be named the captain is definitely an honour."
Crosby is synonymous with mastery and success—as evidenced by his extensive resume. Donning the "C" for the Pittsburgh Penguins for six and a half years, Crosby has lead his team to the apex of the sport—augmenting the club's quality of play with every pass, dangle, and stride. Collectively, the hockey world holds its breath each time Crosby touches the puck.
Bench boss Mike Babcock is no stranger to Crosby's heroics. The duo worked together in the 2010 Olympic games in Vancouver which saw Crosby, with patience and excellent vision, net the goal to secure a gold medal for the host Canadians.
"Sidney, Jonathan and Shea have been leaders on the international stage in the past, as well as with their NHL teams," commented Babcock in a statement. "These three players will be at the forefront of our efforts in Sochi, but we are confident we have 25 players on our roster that will lead in their own way and allow our team to be successful."
Vancouver can be characterized as a litmus test for Crosby and his ability to satisfy the qualities necessitated by a leadership role of an all-star roster. Crosby's performance on home ice four years ago coupled with his continued success in Pittsburgh serve as the catalyst that made Team Canada's choice a no-brainer.
With six captains on the Canadian roster, there is no shortage of leaders. Suffice it to say, Crosby's day as captain would have come eventually had he continued to play a strong yet relatively unchanged style of hockey. Yet, Crosby's unrelenting desire to improve in all areas of the game have set him apart from teammates and provided a strong argument in his favour. Further, Crosby has proven he can work through adversity and pressure in a variety of situations. One can reference his prolonged stint with concussion-related symptoms and continued pressure as face of the NHL as evidence.
By the Numbers
In 48 games played, Crosby has recorded 68 points (25G, 43A) with the Penguins this season, earning a plus-12 rating. He currently leads the race for the Art Ross, a trophy awarded to the player with the most points in a season.
In his last five games, the Penguins forward has posted six points and averaged 21:49 in ice time.
Crosby also shines on the international stage—credited with seven points (4G, 3A) in seven games played at the 2010 Olympic Winter Games.
Notes
Crosby is the fifth NHLer to be named captain. Others include Zdeno Chara, Pavel Datsyuk, and Henrik Zetterberg.
Canada's first game is slated for February 13, 2014 against Norway.