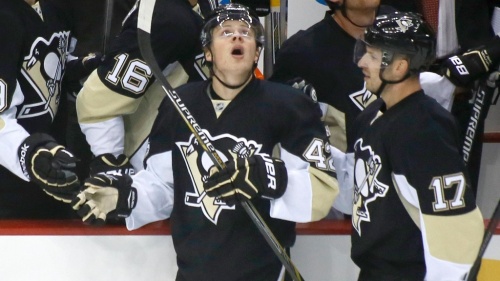 One week ago, Kasperi Kapanen didn't look NHL ready. One week ago, the general consensus was that Kapanen had the skill, but maybe not the experience needed to play in the NHL. One week ago, Kapanen was a "two-year project" instead of a Pittsburgh Penguin.
On Saturday afternoon, Kapanen fit right in.
Expectations were high for the Penguins' first rounder coming in to training camp. Especially after seeing fellow Finn, Olli Maatta, become an NHL regular last season. But without anything immediately standing out other than a few flashy moves, many doubted his ability to compete with the best.
In his first preseason game, Kapanen looked a little lost at times. Having to jump in to a system that teammates are still learning is not an easy task. But as the game went on, he settled in and even got a few shots. In his second game, he got more involved with a few takeaways. However, it wasn't until Saturday afternoon that we got our first glimpse of the real Kasperi Kapanen – picking his spot above former Vezina Trophy winner Sergei Bobrovsky's shoulder for the first goal of the game.
With Beau Bennett out for six weeks with a lower-body injury, there is a vacancy on the projected third line. Head coach Mike Johnston's vision seemed to consist of a talented two-way forward in Brandon Sutter, a worker bee in Steve Downie, and a talented goal scorer in Beau Bennett. If his offensive talent continues to shine, clear the way for Kasperi Kapanen.
Much like what happened with Olli Maatta, nothing has to be set in stone. Kapanen could stick around for ten games, which is about how long Bennett will be out. If he splits his duties with Oskar Sundqvist, both could get ten games in and still be with the team after Bennett's return.
Many looked for instant success with Kapanen after what happened with Maatta last season. But what seems to be forgotten is that Maatta went through camp and preseason with a question mark over his head. He went through his first ten NHL games with a question mark over his head. And it wasn't until Game 11 that the question mark was finally lifted.
Question mark or not, Kapanen can play.
Scratch that. He will.