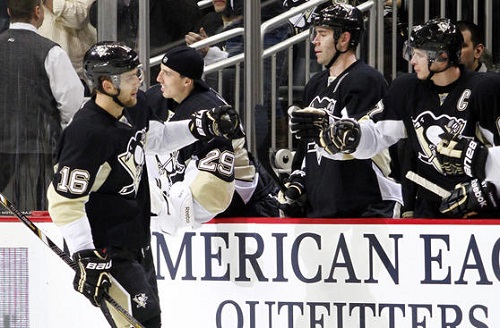 With 39 games played, the Pittsburgh Penguins find themselves 27-11-1 and atop the Eastern Conference.
But can that pace continue?
The Penguins have suffered more than just a rash of injuries. According to mangameslost.com (a nifty new site that calculates injuries), the Penguins have suffered a league high 210 man-games-lost (MGL) due to injury or suspension (updated Dec. 24th). That's almost 20 more games than the next highest team (Anaheim-193) Let's take a look at all the injuries (cbssports.com):
Pascal Dupuis, RW— Knee
Kris Letang, D— Elbow
Evgeni Malkin, C— Leg
Deryk Engelland, D— Suspension
Brooks Orpik, D— Concussion
Andrew Ebbett, C— Ankle
Paul Martin, D— Leg
Beau Bennett, RW— Wrist
Tanner Glass, LW—Hand
Rob Scuderi, D— Ankle
Tomas Vokoun, G— Pelvis
And they're still atop the conference? Yes.
Credit general manager Ray Shero and head coach Dan Bylsma for creating a powerhouse organization filled with depth at all levels.
Spot starters like defenseman Robert Bortuzzo have done a fantastic job, while depth players like defenseman Matt Niskanen have stepped up in top-line roles.
But the team as a whole hasn't missed a beat: Their 27 wins is tied for first in the NHL; 3.03 G/G is good for fifth; 2.26 GA/G ranks fourth and their special teams are fantastic ranking second on the PP (24.8%) and PK (87.3%).
So, what's the secret?
Strength—Kunitz-Crosby-Dupuis(?)
The Penguin top-line is arguably the best in the NHL. And until recently it has been Pittsburgh's healthiest line (Dupuis was injured Dec. 23rd against Ottawa).
Obviously, the key cog to the top-line machine has been Sidney Crosby, who is tearing up the league with 54 points (five higher than second place, Patrick Kane-49). Crosby's consistent play has held the team together like glue. Whenever the team is in need of a timely goal, the top-line always seems to come through. Moreover, one of Crosby's greatest strengths is making the players around him better—and that skill has come through this season more than ever because…
Chris Kunitz has 20 goals. Yes, Chris Kunitz. His play this season can largely be attributed to playing alongside Crosby (although the case can be made for him to make the Canadian Olympic team), but his play this season cannot be ignored. Between the two, Kunitz and Crosby have 40 of the Penguins 118 goals (34%).
Kunitz and Crosby are complemented perfectly by the play of Pascal Dupuis—who doesn't show as much in the offensive categories, but is a fantastic two-way player and a great penalty killer, but…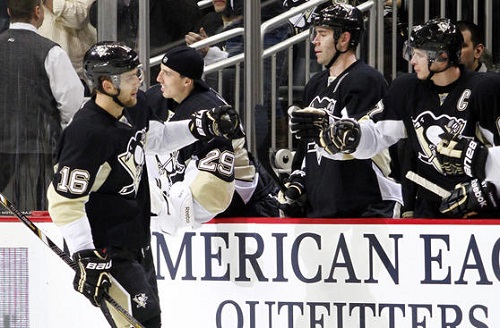 Weakness—Dupuis Injury
Unfortunately, Dupuis injured his knee on Dec. 23rd and is out indefinitely (and maybe for the rest of the season for surgery on a torn ACL).
Dupuis' injury changes the dynamic of the Penguins roster—now it seems that each line has suffered an injury (or two).
Logically, the Penguins would move James Neal (20-MGL), who just recently returned from a suspension and an early season injury, up to fill Dupuis' slot. A Kunitz-Crosby-Neal line would be terrifyingly potent offensively, but would leave the team with not much scoring on lines two through four.
Here's hoping Evgeni Malkin (7-MGL) comes back sooner rather than later to give the Penguins some second-line scoring.
In the meantime, a player like Chris Conner could pop up to the top-line to play alongside Crosby—which would allow Neal to lend his scoring touch (40 goals in 2011-12) to the secondary-lines.
Whatever happens, it's going to be difficult to keep up the conference-leading pace without Dupuis, whose injury effects more than just the top line.
More than ever the Penguins will have to rely on some strong…
Strength—Goaltending
Thank the hockey gods for Marc-Andre Fleury and Jeff Zatkoff.
With the help of the Penguins' defensemen, Mr. Fleury and Mr. Zatkoff have posted that fourth-ranked GA/G average (2.26).
But get this: The Penguins have won 11 of their 27 games when outshot by their opponents. That's also good for fourth(t) in the NHL.
Can't do that without some fantastic goaltending.
It all starts with starter Marc-Andre Fleury. His 21 wins leads the NHL, while facing the 12th most shots (771) hasn't stopped him from posting a league leading(t) three shutouts.
But more impressively, backup Jeff Zatkoff has been tremendous in his—you guessed it—fill-in role for the—you guessed it again—injured Tomas Vokoun (39-MGL).
After losing his first two games in the NHL, the rookie has won six straight decisions while posing a .912 save-percentage.
Having a goaltending tandem like Fleury and Zatkoff has helped the Penguins mask some of the…
Streaknesth—Replacements
The replacements have played great, don't get me wrong. That's why they have the great distinction of a "streaknesth," which really isn't a strength but certainly isn't a weakness.
Again, this is where we have to give credit to GM Ray Shero and head coach Dan Bylsma for not only drafting, signing and developing the players that are stepping in for the starters, but for keeping the system the same—allowing for these players to step in and know their role right off the drop of the puck.
Players like, D Simon Despres and RW Jayson Megna(8-MGL) have filled in beautifully for players like D Kris Letang(15-MGL), D Rob Scuderi (28-MGL) and RW Beau Bennett(27-MGL). And many other players have done the same.
However, eventually one would have to think all the injuries are going to catch up to the Penguins.
The question is—when?
With many of these players slated to come back as early as Friday (Dec. 27) the Penguins should solidify some of the injury woes. But who knows when some of the other injured players will come back.
So to answer the question of whether or not the Penguins can keep up their conference-leading pace: In a word, yes.
It looks like 2.5 strengths to 1.5 weaknesses in favor of the Penguins to continue the streak.
Only time will tell.
Love Reading About Hockey?

Subscribe to keep up-to-date with the latest and most interesting hockey news!
| | |
| --- | --- |
| | We hate spam just as much as you |