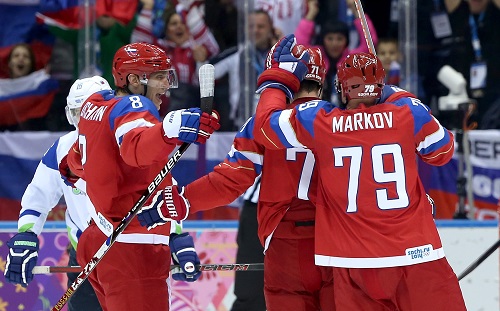 While not in exactly dominating fashion, Team Russia's Olympic Mens Ice Hockey defeated Slovenia early Thursday morning by a score of 5-2.
Only 5-2?
Ah, play the song anyways:
Anyways, yes only 5-2…against a Slovenian team playing its first ever Olympic Mens hockey contest and with only one NHL player, Anze Kopitar.
A slightly disappointing win for the Russians, I guess.
But Team Russia did show off some spectacular skill and as the Olympics progress, other favorites like Team Canada, Team Sweden and Team USA should be afraid of Russia's potent offensive skill.
It started off fantastically for Russia with Alex Ovechkin (1—Malkin, Syomin) notching the first goal (1:17) and assisting on another by Evgeni Malkin (1—Ovechkin, Medvedev) a little over two minutes later (3:54).
Russia possessed the puck with a frenzied attack in the early goings of the first period and it looked like Slovenia would be gasping for breath in their defensive zone all game heading into the first intermission down 2-0.
But give credit to Slovenia. Playing in their first ever Olympic game they showed cohesiveness and chemistry and gave the Russians some fits with their patient, almost deliberate play.
Anze Kopitar must feel like he got out of the frying pan only to go into the fire, playing on a team that feels remarkably similar to his NHL squad in Los Angeles.
Team Slovenia just couldn't muster much offense despite their cohesion and would have to rely on some timely chances to get goals.
And that's what happened coming out of the first intermission.
Slovenia looked like a different team.
Playing in front of their goaltender Robert Kristan—who played a fantastic game—Slovenia was able to cut down on second-chance opportunities from the Russian squad and generate some odd-man breaks of their own.
They finally caught a break when Ziga Jeglic (1—Robar) netted one past Russian goaltender Semyon Varlamov one minute 43 seconds into the second period for Slovenia's first ever Olympic goal.
That gave the Slovenians a spark and they kept up the pressure with some scoring chances and great defensive play.
The Russian team which possessed the puck with authority in the first period looked like a different team.
Unfortunately the Slovenians could not capitalize on the momentum before the Russians went on the powerplay 16:20 into the second.
It's said that the first few Olympic preliminary games are when teams experiment and figure out their special teams.
And with the offensive talent the Russians have, you knew it wasn't going to take long before the power play struck.
Ilya Kovalchuk (1—Malkin, Radulov) ripped one past Kristan (17:48) to give Team Russia a 3-1 lead late in the second.
Kovalchuk's goal displayed what players like Malkin can do with the different dimensions of an international rink.
The area behind the net is two feet more from the goal line to the end boards than it is in the NHL. And Malkin took full advantage, roaming behind the net to find an open Kovalchuk in front for the goal.
As was their second-period mantra, Slovenia battled back. Jeglic (2—Sabolic, Kopitar) scored his second of the game on a breakaway fed by Kopitar (18:52) and the Russians took only a one-goal lead into the second intermission.
It was difficult to predict what would happen in the third period. Would the Russian Machine greasen its gears and run at full capacity? Or would the Slovenians continue to patiently wear down the offensive skill of their opponents?
Well, Anze Kopitar can only do so much.
The Russians dominated the third period scoring twice.
Valeri Nichushkin (1—Tereshchenko) drove the right side on a brilliant power-move and snuck one by Kristan for the Russian's fourth goal (3:59).
And Anton Belov (1—Nikitin, Tereshchenko) ripped a rocket from the point to make it the final score of 5-2 in favor of the Russians (7:53).
Belov's shot exemplified another benefit of the international rink for shooters. Each defensive zone is shorter by four feet, allowing shots from the point to hit the net much faster than it would in a NHL arena.
The Russians still have some ironing to do, but the potency of their roster—especially their offensive firepower—makes them a frightening team moving forward.
---
My 3 Stars
3 – Ziga Jeglic (SLO)—2 goals
2 – Alexander Ovechkin (RUS)—1 goal, 1 assist
1 – Evgeni Malkin (RUS)—1 goal, 2 assists
---
Twitter Take
No truth to the rumor the L.A. Kings have signed Ziga Jeglic during the second period intermission here…

— Pierre LeBrun (@Real_ESPNLeBrun) February 13, 2014
Slovenia on the power play! Here comes Kopitar and…uh. HERE COMES KOPITAR! #AllTheyGot

— Mark Madden (@MarkMaddenX) February 13, 2014
---
Next Up:
Russia takes on the USA, 7:30 am ET on Saturday (2/15)
Love Reading About Hockey?

Subscribe to keep up-to-date with the latest and most interesting hockey news!
| | |
| --- | --- |
| | We hate spam just as much as you |