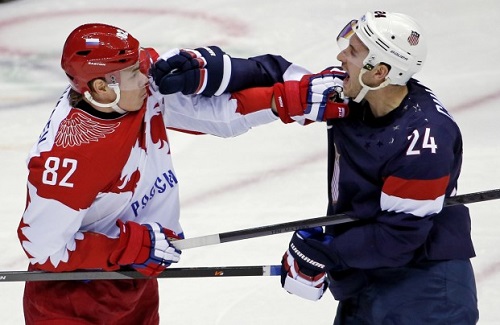 Team Russia vs Team USA felt like an old-time NHL rivalry Saturday in Sochi.
There were big hits, bad blood and fantastic hockey.
In the end, Team Russia won, but actually lost, in a thrilling eight-round shootout to a gritty American squad.
The opening tilt was even for the first 10 or so minutes, but then Russia took charge and dominated for the next five or so minutes before Team USA evened it out before the intermission where the teams felt each other out in a 0-0 period.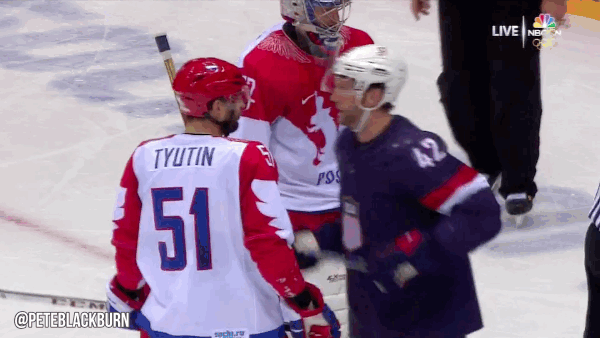 The second period was when this game started getting really good—but for Team Russia, it could have gone even better.
Failing on special teams while Team USA thrived, the Russians just looked like they were an inch or two from breaking this game wide open.
But timely blocks by the Americans—namely Ryan Kesler and Ryan McDonagh—kept them alive through two deadly-looking Russian power plays.
The good thing for Russia, however, is they have No. 13, Pavel Datsyuk. Nine minutes 15 seconds into the second, Datsyuk (1—Markov, Radulov) split the American defense and netted one past USA goaltender Jonathan Quick to put Russia ahead 1-0. At times, Datsyuk looked so much better than anyone wearing either jersey.
But with a chance to take a two-goal lead, USA's penalty killers shut the door on the Russians again.
And now it was their turn to work the power play. And they took full advantage.
The penalty came when Russian forward Alexander Radulov inexplicably shoved American forward Dustin Brown 100 feet away from the puck.
It didn't take look before defenseman Cam Fowler (1—van Riemsdyk, Kessel) broke towards the net where a juicy rebound caromed off his skate and behind Russian netminder, Sergei Bobrovsky (16:34).
The second period ended 1-1 but the momentum looked to be with the Americans, scoring the last goal and killing penalties.
The first half of the third opened with not much to talk about other than Team USA killing another Russian power play—which looked terrifyingly like it was only a matter of time before it struck.
But again it was Radulov entering the box for the Russians and Team USA once again took full advantage of the opportunity.
Joe Pavelski (1—Kane, Shattenkirk) fired a one-timer past Bobrovsky off a beautiful cross-ice feed from Kane to put Team USA up 2-1 (9:27).
But the Russians wouldn't go away. American forward Dustin Brown headed off towards the box and it was now-or-never time for the Russian power play.
But remember, they have No. 13.
Datsyuk (2—Markov) got a shot off through traffic and found the back of the net behind Quick to tie the game and turn the momentum in favor of the Russians with only 7:56 left to play.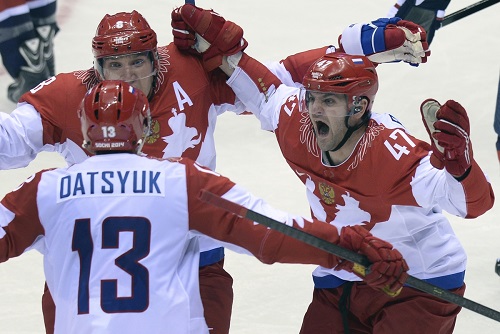 Then, it appeared as if Russia had taken the lead off of a powerful blast from the point from Fyodor Tyutin. All replays showed that the puck went in the net, it wasn't touched by a high stick—so why, then, was it waved off?
The net was three inches off its moorings.
Instead of 3-2 Russia with under five to play, the game headed into overtime.
The overtime was nail-bitingly frenzy with the best chance coming from American Patrick Kane's breakaway which was stopped by Bobrovsky.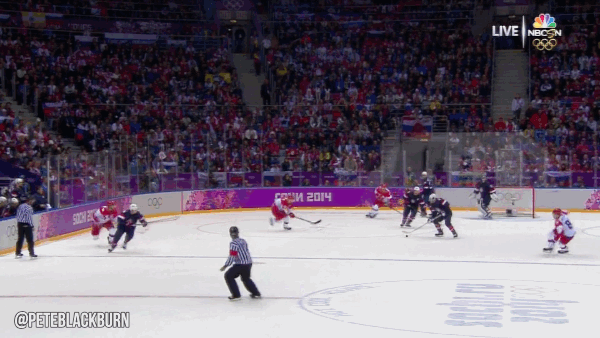 But the overtime horn sounded and Team Russia—a team full of world-class danglers—would head to a shootout against the pesky, gritty (and lucky) Americans.
The drama of the shootout cannot be put plainly into words—especially on this stage, between these two bitter rivals.
Team USA offered their three contestants: T.J. Oshie, James van Riemsdyk and Joe Pavelski.
Team Russia countered with Evgeni Malkin, Datsyuk and Ilya Kovalchuk.
Kovalchuk and Oshie were the only two to score during the opening round, but in the Olympics the teams are allowed to pick anyone to shoot in the remaining rounds—regardless of whether or not they have already gone—unlike in the NHL where if you shoot, you cannot shoot again.
After the first three shooters for each team had gone, Russia shot first choosing Kovalchuk who fired one which was stopped by Quick.
The Americans chose Oshie who missed the net high.
Russia then offered up Datsyuk who snuck one past Quick (and, whose Russian-hero status went from high to unexplainable).
But, not losing faith in the young St. Louis Blues star, Team USA gave Oshie another chance and he buried it past Bobrovsky.
So, who do the Russians pick now? Datsyuk again or Kovalchuk?
They chose Kovalchuk who lofted a changeup over the left pad of Quick.
Pressure mounting, Team USA chose Oshie once more and he just would not let the American dream die burying one past Bobrovsky.
Alternating now, Russia came back with Datsyuk who was denied by a sprawling Quick.
Now, with the game on his stick Oshie tried to go backhand and was turned aside by the stick of Bobrovsky—The Russians were still alive.
Kovalchuk took the puck and sped to the net where he deked right and had Quick beaten. But Quick flashed his glove just in time to stop the Russian and give Mr. Oshie another chance.
Team Russia—who thought they had taken a late lead in regulation—watched Oshie sneak one past Bobrovsky for the game winning goal.
What a game.
But there is hope.
Now with two games under their belts, the Russian power play looks absolutely terrifying and—barring another fluke-disallowed goal—the Russians looked poised to make a long Gold Medal run.
---
My 3 Stars
3—Andrei Markov (RUS) – 2 assists, plus-1 rating
2—Pavel Datsyuk (RUS) – 2 goals, 6 shots on goal
1—T.J. Oshie (USA) – 1 goal (Shootout game winner)
---
Twitter Take
I love Olympic hockey. Has to be more than patriotism or I would watch Luge too.

— Colin Cowherd (@ESPN_Colin) February 15, 2014
Beauty of a goal by Datsyuk, who looks a lot healthier today than he did in first game

— Pierre LeBrun (@Real_ESPNLeBrun) February 15, 2014
---
Next Up
Team Russia takes on Slovakia Sunday 7:30 am ET
Love Reading About Hockey?

Subscribe to keep up-to-date with the latest and most interesting hockey news!
| | |
| --- | --- |
| | We hate spam just as much as you |