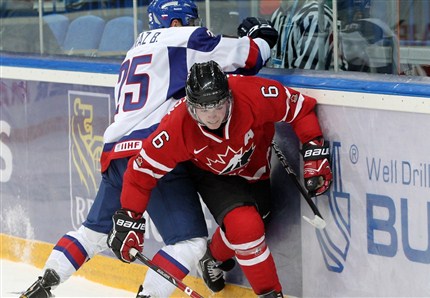 Friday morning's contest against Team Slovakia tested the tenacity, heart, and skill of Team Canada. Touted as an offensive juggernaut, Team Canada entered the game as a heavy favorite. But the pesky Slovakians, determined in their pursuit of a win, proved to be a challenge. After a 3-1 deficit in the second period, Canada's valiant efforts paid off with a plethora of goals from Morgan Rielly, Ty Rattie, and Mark Schiefele. Ryan Nugent-Hopkins—the caped crusader from Canada's win over Germany days ago—made his presence known in the third period and netted Canada's fifth goal on a backhand. New York Islanders' prospect Ryan Strome earned his second tally of the game, making for a final score of 6-3 in Ufa, Russia.
The spotlight was firmly planted on Canada's blueliners, lead by Pittsburgh Penguins' prospect Scott Harrington—and deservingly so. Canada's defense collectively tallied seven points. The group was more prominent in this game than Wednesday morning's contest against Team Germany. In particular, Harrington seemed more at ease and fluid with the puck. He attempted shots and continually challenged Slovak netminder Adam Nagy. Make no mistake, this game proved to be a bitter battle and Harrington led by example. Using his body to block shots and clog shooting lanes, the OHL London Knights' captain is giving Canadian fans reasons to be excited.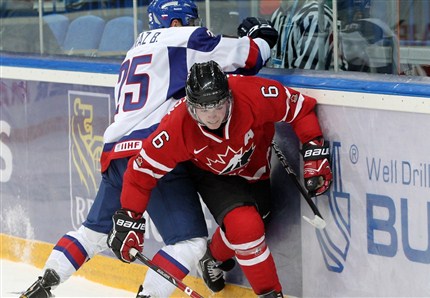 However, the team's errors markedly hindered success early on. Undisciplined play leading to unnecessary penalties is an obvious example. Team Canada was penalized for a total of fifty-eight minutes compared to Team Slovakia's ten minutes. This golden rule goes without saying and the Canadians should be mindful of this. For Harrington in particular, plays in the Canadian zone need to be stronger, more fluid, and ultimately put pressure on the opposing team. At multiple times during the game, the Canadians failed to sustain pressure on the Slovaks, in turn allowing for easy access to netminder Malcolm Subban.
Harrington, one of two returning defensemen, needs to play a tighter and more streamlined game. The Kingston native is no stranger to success, tallying twenty-six points in forty-four games played with the London Knights last season. Currently the OHL club is on an eighteen game winning streak, a feat that humbles Harrington.
"It's been special the last month and I think our team has really bonded well together. Winning 18 straight is, I don't think, something any of us dreamed of. It's difficult to do, especially in the OHL and the conference we're win" He said.
Harrington is one of Canada's top blueliners and works in tandem with fellow returning roster member Dougie Hamilton of the Niagara IceDogs. New faces Morgan Rielly, Ryan Murphy, Xavier Ouellet, Griffin Reinhart, and Tyler Wotherspoon are beaming with confidence and prowess proving, ultimately effective for Team Canada in key situations. Principally, Rielly and Ouellet play with intense physicality and shadowing the opposing team's offensive powerhouses. The pair look to Harrington for inspiration, a sentiment head coach Steve Spott echoes. "Dougie Hamilton is versatile and we're using him both offensively and defensively, but Scott Harrington is really the captain when it comes down to our shutdown group."
"When you look at the ice surface we're playing on, you have to be able to shake off a defender and throw quick passes and activate into the rush, and we feel the guys we can do that," Spott told the media. "That includes Scott Harrington. He can jump in the play and activate the offense, too. Skating, puck movement, mobility, those are all key factors when we look at those seven guys."
With Russia's win over the United States on Friday morning, Canada will need to perfect their game and effectively shut down the confidence of Team Russia. Expect a gritty, gallant, and near heroic effort from Harrington—a style that is familiar to the young captain. It is this style that will propel Canada's defensive core forward and toward success. These qualities also compose the character of the defensive pedigree of the Pittsburgh Penguins—a team that Harrington will fit in with nicely. However, for the time being expect good things from Harrington as Team Canada meets Team USA on Sunday morning. Let the games begin.