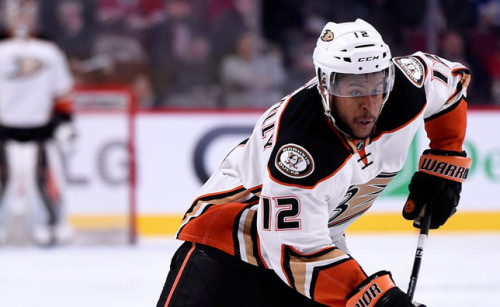 Early Tuesday morning, the Canadiens dealt 22 year old left winger Jiri Sekac to the Anaheim Ducks in exchange for 22 year old right winger Devante Smith-Pelly.
At first glance, a hockey deal was made. Now whats a hockey deal? One where a team deals with another team from a position of strength to benefit both teams in a position of weakness. The Ducks receive a young, talented big winger that has the potential to fit in perfectly on the top line with Getzlaf and Perry. The Canadien's receive a big, physical winger that also has some nice speed to his game. Look for Smith-Pelly to slot in on a line with Brandon Prust and Jacob de la Rose. If Smith-Pelly is used to his strength's, we could see the young winger break out to the power forward status that he was drafted to have.
Don't be surprised to see Smith-Pelly inserted on one of the Habs power play units to play in front of the net. Therrien did not seem willing to make room for Sekac in the top 6 and Smith-Pelly will be more useful in a bottom 6 role than Sekac. I would not be surprised if this was a precursor to another deal as the Canadiens still lack scoring depth. Habs fans will be disappointed to see a promising Sekac leave the team, but Therrien was not using him properly and thus it seems Canadiens general manager Marc Bergevin catered to his coaches wants and needs.
In order to judge this trade with more accuracy, we will need to see Sekac and Smith-Pelly suit up for their new respective squads.
Happy hockey everyone.