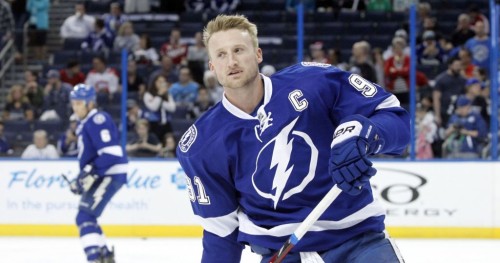 There's a party going on out here
A celebration to last throughout the years
So bring your good times and your laughter too
We're going to celebrate your party with you.
-Kool & The Gang
Birthdays always call for some type of celebration.  There's usually a little cake, ice cream and fun to be had by all.
In that case, February 7 should be a great day for the Tampa Bay Lightning and captain Steven Stamkos.
Not only do the Bolts play host to the defending Stanley Cup champion Los Angeles Kings, their leader gets the opportunity to celebrate his 25th birthday in front of nearly 20,000 fans at Amalie Arena.
As one of the NHL's more prolific goal scorers, Stamkos has more than enough highlight reel plays in his 7-year career to do hundreds of different articles honoring him on this special day. I narrowed that number down, but still included the ones that might bring about a smile or fit of laughter for those who enjoy letting loose every so often.
Without further ado, I present the most memorable moments–some serious, some funny– of the captain's long and illustrious career.
Sense of humor? Check. Accuracy? Check. I gather the captain loves to laugh and make others laugh!
Versatile to the core, Stammer can kick 91 yard field goals and torch opposing netminders like crazy.
Breakaway goals, goals on the rush, even one while falling down. Stamkos has them all.
Long hair, don't care. Stamkos wins the 2012 NHL All Star Elimination Shootout with three nifty moves.
The best at shooting one-timers gives a lesson on why this shot's so effective.
With a head of steam, watch out! This guy's lethal.
At only 19 years old, Stamkos scores his first NHL hat trick. Some of these angles, it's like "Wow., How'd he do that?"
A game of ball hockey for charity? No problem for the Lightning superstar, who's as good a guy as he is a player!
Slap shot, wrist shot, doesn't matter. Stammer scores 50 in only his 2nd NHL season… and the announcers proclaim him to be a star!
http://www.youtube.com/watch?v=Wquot7A_cl0
Two years after scoring 50 (+1), Stamkos joins elite company by scoring 60!
Back home in his native Ontario, Stamkos picks up a natural hat trick in a win over the Toronto Maple Leafs.
No wonder Leafs fans want him home for good!
Just for kicks. Stammer's a pretty good ball player though!
Stamkos' baseball skills proved handy on this highlight-reel goal.
WARNING: Getting hit by a Stamkos puck could cause permanent brain damage (or worse)!
Stamkos tries his hand at being an actor.
Not too shabby either!
http://lightning.nhl.com/club/search.htm?q=Steven+Stamkos+Named+Captain&tab=video
Upon returning from a broken leg, Stamkos is introduced as the Lightning's new captain.
Stamkos shares a laugh with the 'rookie reporter', head coach Jon Cooper.
And there you have it. Celebratory moments from the still young NHL career of Steven Stamkos. Happy 25th birthday captain and now let's cue some more music.
In the words of Kool & the Gang,
Yahoo!
It's a celebration
Yahoo!
Love Reading About Hockey?

Subscribe to keep up-to-date with the latest and most interesting hockey news!
| | |
| --- | --- |
| | We hate spam just as much as you |