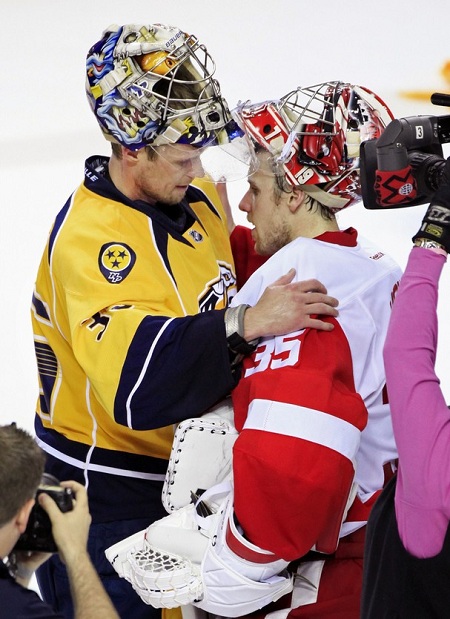 We're back today with the top 5 goaltenders in the Central Division. We've already looked at the top 5 defensemen and the top 5 forwards, and today we'll look at the last line of defense. The Central Division is a unique one as we actually have a team that has two legitimate starting goaltenders, so we might see one team in the Central not even get their starting goaltender on the top 5 list. There are some phenomenal goaltenders in this division so it may be hard to stomach seeing certain goalies with a low ranking, but we'll do our best to rank them. As a disclaimer, all projections made for the goaltenders will be based on the number of games they played the previous season. Let's take a look at who made the cut.
5. Corey Crawford, Chicago Blackhawks
Crawford has been with the Blackhawks organization since 2005-2006, but he has only been the starter since 2010-2011. Crawford has been the unquestioned starter for the Hawks for 114 regular season games and he's put up some solid numbers, going 63-35-13 with a 2.51 GAA and a .910 SV%. This past season saw Crawford struggle mightily at times, even causing the Hawks to turn to Ray Emery down the stretch. Crawford eventually found his game and got the starting gig back, but he laid an egg in the playoffs, posting a 2.58 GAA and a .893 SV%. Crawford is still just 27 years old and at time has shown flashes of brilliance (see his play in the 2011 Playoffs), but he has yet to string together a very strong 20 or 25 game stretch. Crawford has the size (6'2″, 200 lbs) and talent to be much better than what we've seen. If he can work on his consistency, we'll see Crawford move up this list.
Last Year – 30-17-7, 2.72 GAA, .903 SV%, 55 Games Started
Projection – 32-18-5, 2.55 GAA, .910 SV%, 55 Games Started
4. Brian Elliott, St. Louis Blues
At number 4, we have one of the St. Louis Blues goaltenders that helped form one of the most effective timeshares in the history of the NHL. Elliott posted ridiculous numbers last year, going 23-10-4 with 9 shutouts in just 36 games started. Think about that. In 25% of his starts, Elliott recorded a shutout. In the modern era (since 1967-1968), that's the highest percentage of starts that resulted in a shutout for a netminder that played more than 30 games. However, Elliott has benefited greatly from the defensive system that Blues coach Ken Hitchcock has implemented. Elliott faced an average of just 26 shots and a majority of them were low quality. If we look back at Elliott's career, we see that prior to this season, Elliott had never posted a GAA better than 2.77, and had never posted a SV% better than .909 SV%. In fact, Elliott's last season as a starter had him with a sub-.900 SV%. So you can imagine the shock for the NHL when Elliott posted a .940 SV% this past year. We'll see if he can keep this up, but I am going to be very wary of him until we see consistency over a couple of seasons.
Last Year: 23-10-4, 1.56 GAA, .940 SV%, 36 GS
Projection: 21-11-4, 1.89 GAA, .931 SV%, 36 GS
3. Jaroslav Halak, St. Louis Blues
Part two of the dynamic St. Louis Blues goaltending duo is Jaroslav Halak. Halak's coming out party was the 2009-2010 playoffs, where he usurped Carey Price for the Montreal Canadiens starting job, and then led the Habs past the #1 seed Capitals and the #4 Penguins before finally falling to the #7 Flyers in the Conference Finals. Halak was superb, posting a 2.55 GAA and a .923 SV%. On the surface, those numbers don't seem spectacular, but what most people will remember are Games 5, 6, and 7 against the Capitals in the first round. Facing a 3-1 series deficit, Halak faced 134 shots over the next 3 games (44.6/game), stopped 131 of them (.977 SV%), and earned the win in all three games to send the #1 seed Caps home. In particular, his performance in Game 6 of that series was one of the best goaltending performances in playoff history. With the Blues, Halak has stepped up his game, going 26-12-7 with 6 shutouts this past season. Again, the addition of Coach Hitchock has made life much easier for Halak and he's finally gotten back to just stopping the puck after having some consistency issues in 2010-2011. Halak is the more dynamic and talented of the two Blues goaltenders, but Elliott posted the better numbers. We'll see who the Blues lean on more in the coming year.
Last Year: 26-12-7, 1.97 GAA, .926 SV%, 46 GS
Projection: 26-14-6, 2.01 GAA, .925 SV%, 46 GS
2. Jimmy Howard, Detroit Red Wings
Jimmy Howard is a very peculiar goaltender. Some call him the most overrated goaltender in the NHL, while others prefer to call him the most underrated goalie in the NHL. He's a hard goaltender to figure out, but he's played well for Detroit when it's counted and his statistics are very underrated. For me, I prefer to think that Howard is still a mix of the two. In 2009-2010, Howard was given the reigns to the Detroit net, and he did not disappoint, finishing with a 37-15-10 record, and in the top 5 in both GAA and SV% as a rookie. Many people have always felt that the Detroit netminders' (cough, Chris Osgood) win totals were inflated during the past 20 years because of the talent in front of them, but Howard backed up his win numbers with a phenomenal GAA and SV%. However, the next year, Howard experienced a sophomore slump, seeing his GAA drop from 2.26 to 2.79 and his SV% from .924 to .908. This past season was the real test to see if he was truly fit to be the Wings netminder of the future. Howard did not disappoint, going 35-17-4 with a 2.13 GAA and a .920 SV%. In fact, one could argue that if Howard did not get injured, his numbers would have been even better. At the time of his injury (early February), Howard was 32-11-1, with a .924 SV% and a 2.02 GAA. We'll see what form Howard shows up in this year, but the fact of the matter is, he was on his way to a phenomenal year before being derailed by injuries.
Last Year: 35-17-4, 2.13 GAA, .920 SV%, 57 GS
Projection: 40-15-6, 2.20 GAA, .922 SV%, 61 GS –> Howard would have started more than 57 games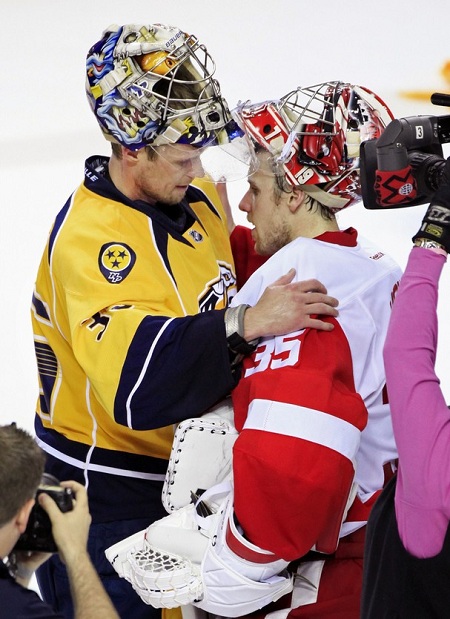 1. Pekka Rinne, Nashville Predators
While the other 4 spots on this list may have been debatable, this position was locked up. Rinne has been incredible for the Predators the past two years and is one of the major reasons that the Predators have finally been able to get out of the first round of the playoffs. Rinne is going to be a perennial Vezina Trophy finalist for years to come as he's still only 29 years old. Rinne has been nominated the past two years, and this past year he posted a league high 43 wins to go along with his 2.39 GAA, and a .923 SV%. What makes Rinne so special is that he's so athletic and so quick for a man his size. Rinne is 6'5″, 205 lbs, but covers the net so well. His glove hand is one of the best in the game today, and his legs are so good that it's nearly impossible to beat him down low. Preds fans, enjoy – you have a good one for years to come.
Last Year: 43-18-8, 2.39 GAA, .923 SV%, 72 GS
Projection: 45-20-7, 2.33 GAA, .920 SV%, 72 GS
That wraps up our breakdown of the Central Division. Next up we'll look at the forwards of the Northwest Division. Don't agree with our picks? Comment below!