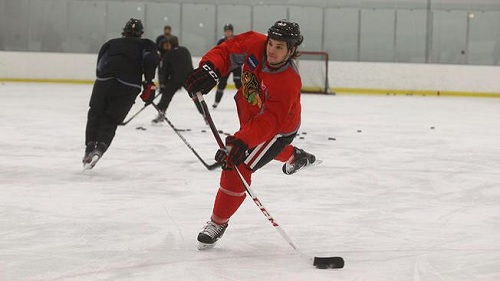 The Cup Hangover is over. The Chicago streets are no longer filled with red jerseys and the lockout was tough on everyone including the fans. But it's over, in the past, old news. Now it's time for the Blackhawks to set their sights on once again lifting Lord Stanley's prize.
The upcoming shortened season could be a blessing in disguise for the Blackhawks. With all the games being conference play only, the Blackhawks won't be seeing their Eastern Conference opponents. Instead, only the Western Conference rivals will show up on the Blackhawks' schedule which is a double-edged sword. Many say the Western Conference is the toughest in the NHL, giving the Blackhawks strong competition on a schedule that has them playing virtually every other night. That leaves no room for mistakes or resting on laurels.
At the same time, the quick and competitive schedule is tailor-made for the young and talented roster in Chicago. Teams loaded with young talent like Chicago and St. Louis will thrive in the post-lockout season.
Patrick Kane, for example, should fit right into the quick play after coming off an equally busy schedule overseas. Kane at one point played five games in five nights while the NHL was on a break. While a handful of other NHL players were also on the ice overseas, none had quite as demanding of a schedule as Kane did. This kept him in prime condition and constantly on skates. By the time he gets back to playing in a Blackhawks sweater, it'll be like he hasn't lost a step.
Which is good news for him because the Blackhawks will be looking for him to put up some big numbers on offense this season. Kane has been 'just okay' since helping bring Chicago the cup and he'll need to start performing like the stand-out he can be. This should come a little easier this season as he will be back on the wing where he feels more comfortable and can focus on being more offensive-minded.
The rest of the offense in Chicago looks solid, which is expected with the amount of talent on the roster. Offensively gifted teams will do well this season and the Blackhawks fit that category. Chicago's first line will resemble the All-Star Game or the Olympics with Jonathan Toews, Patrick Sharp and Kane.
Thankfully, the lockout provided some players a chance to rest and get their health back, which was a big step forward in getting Marian Hossa back on Chicago's line two. He'll play with Viktor Stalberg and either Marcus Kruger or Brandon Pirri, both of which had great stints in the AHL for Rockford.
Along with Kruger and Pirri, Andrew Shaw did well in the minors and he will be playing a bigger role on the Blackhawks' roster this season as well. Although, expect Shaw to have some growing pains as he settles into his role of a quick-tough guy. Shaw will fit in well on the third line with fan-favorite, Dave Bolland.
The fourth line for Chicago looks to be Bryan Bickell, Jamal Mayers, and Dan Carcillo. Carcillo will finally be back after a long hiatus as he took the lockout to recover from a knee injury. His return should bring an added level of energy and intensity to the Blackhawks' bench, as well as the stands. If Carcillo stays healthy and makes a big enough impact, he may move up a line, but that's a possibility to wait on.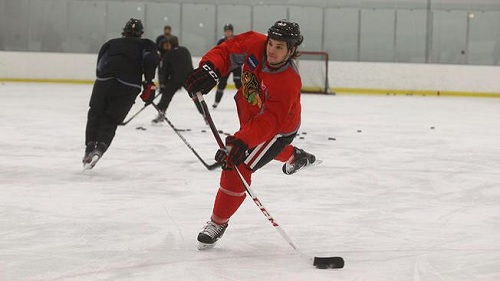 Back on the blue-line, Brent Seabrook and Duncan Keith will be the obvious first pairing. Possibly the best defensive pairing in pro hockey will be back in Chicago. Behind them, Johnny Oduya and Nick Leddy will pair up together which should bring a sense of stability to the defensive end. If Niklas Hjalmarsson does stay in Chicago, rumors of him leaving are swirling, his bodily sacrifices in front of shots will be much appreciated by the Blackhawks. Look for him to pair up with either Steve Montador or Sheldon Brookbank.
With the defense stepping up their game in this shortened schedule, it should help give Corey Crawford some added confidence. There's no doubt that Chicago's goaltending is the biggest question mark on their roster and Crawford knows he has a big target on his back. Hopefully he used the time off during the lockout to forget about the cheap goals that slipped by and can refocus on the challenge in front of him. Those bad memories were nightmares for the young netminder and he knows that his performance this season will go a long way in deciding if he stays in Chicago.
The Blackhawks will also have to step up their special teams play. Chicago was ranked 24th overall in Power Play goals with 42, and a dismal 26th overall in Power Play Percentage with 15.2. With so much offensive talent, the Blackhawks are capable of much more and need to start playing like it. They'll need to capitalize on their offensive strengths to put pucks in the net when they have the advantage, especially when a short season means every game matters more.
Though the Blackhawks have made the post-season since their cup victory, their playoff performance hasn't been stellar. They'll need to go past the first round in the post-season otherwise big changes are on the horizon.