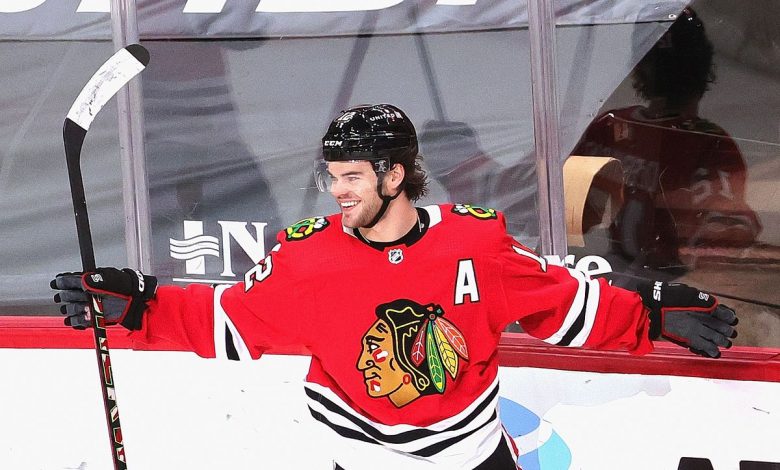 The Chicago Blackhawks have traded star forward Alex DeBrincat to the Ottawa Senators for a package including the seventh and 39th overall picks in the 2022 NHL Draft. Chicago is also receiving a third round pick in 2024.
🚨 TRADE ALERT 🚨 We're picking tonight! pic.twitter.com/ci3RUkQ1q0

— Chicago Blackhawks (@NHLBlackhawks) July 7, 2022
"We thank Alex for his tireless dedication to the Blackhawks organization over the last five seasons and wish him the best in Ottawa," general manager Kyle Davidson said in the team statement. "It was an incredibly difficult decision to trade a player of Alex's caliber. We feel as if this move sets the Blackhawks up for future success by giving us additional flexibility and future talent. Securing this early of a first-round pick for tonight and an additional second-round selection tomorrow allows us to fortify our prospect base with high-end players who we expect to be a difference makers in the coming years.
Although we didn't have a first pick in the draft until today, our scouting staff has been anticipating this scenario. I have been clear in my desire to move into the first round, and we are excited to move up and make a pick this evening."
The Blackhawks desperately wanted to get back into the first round of this year's draft and have done just that. They also added a pick early in the second round where they already had two picks — including pick No. 38 overall.
If this feels light in return considering the star power of DeBrincat, it should. He's a bona fide top tier sniper. But there have been some concerns raised in recent days about the package Chicago general manager Kyle Davidson would be able to get in return.
DeBrincat has one year remaining on his current contract that carries a $6.4 million cap hit. A qualifying offer for DeBrincat after the 2022-23 season would be around $9 million, and he could hit the UFA market in 2024.
So the Senators are inheriting two years of control if they can't get a long-term extension done with him before next summer.