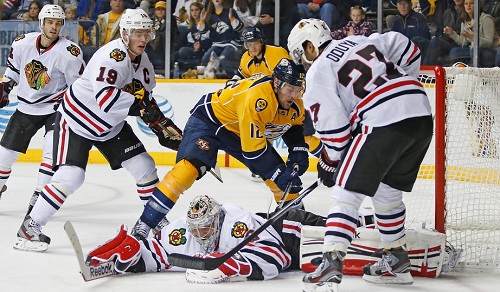 The Chicago Blackhawks continue to steal points as they roll down the schedule this season. Not only have the Blackhawks jumped ahead in the points standings with a franchise record six straight wins to start the season, but they were able to take a nine-win undefeated-in-regulation streak.
Chicago's second week of the season started out a little shaky as the with a 3-2 win over the Dallas Stars in a game that went into overtime. Two nights later, the Blackhawks took a 3-2 win over the Columbus Blue Jackets and things started to feel like the momentum was back in full swing and fans were getting ready to see more of the early season success.
That's when things took a downturn a few nights later for Chicago as they fell to the Minnesota Wild 3-2 in a shootout, stealing an extra point.
The losing streak continued through Vancouver as the Blackhawks fell to the Canucks 2-1 in another shootout. Thankfully, Chicago was able to pull out a win to snap the losing streak and top the Calgary Flames 3-2, yet again, in a shootout.
Hawks fans didn't get perturbed, as Chicago came roaring back. They took two more games on the road from the San Jose Sharks and the rivaled Phoenix Coyotes.
What started as a slight worry has now become long forgotten. Dave Bolland gave Hawks fans a scare by spending some time on the injury list. It was a short stay and his performance hasn't slowed down a bit. The Blackhawks had some setbacks with shootout losses at Vancouver and Minnesota, but those games feel like a distant memory after the highlight-reel performances from Chicago's top stars in recent games.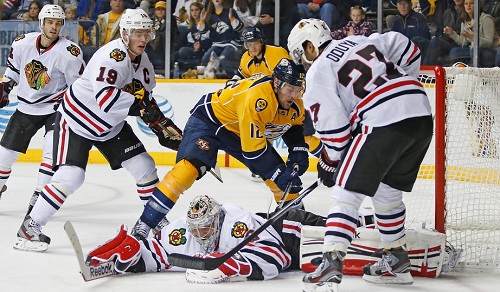 Hossa continues to add points to what is in the making to be a great season for him, Corey Crawford and Ray Emery are playing like they are fighting for their jobs, which they may just be, and Chicago is getting important help from their newer players like Nick Leddy, Marcus Kruger and Brandon Saad. Kane continues his point massacre, with 18 points in 11 games. That's not a typo. Kane has eight goals and ten assists in 11 games. In fact, Chicago has four players with 11 points in 11 games: Kane, Hossa, Patrick Sharp and Jonathan Toews. It's also important to note that coach Joel Quenneville has no hesitations about putting all four of those guys on the ice at the same time during power plays.
Opponents, you've been warned.
It's hard to find weak spots in Chicago's game right now. They are getting game-changing contributions from the stars that are expected to shine brightest when the games is on the line. Chicago's depth is starting to develop as newer, younger players are contributing and starting to feel more comfortable with the Blackhawk chemistry. Crawford and Emery are proving they belong and showing signs of post-season magic. Quenneville looks confident with his team and isn't afraid to move players around, shift lines or take risks. Chicago's special teams are solid as the Blackhawks have no trouble killing off penalties or capitalizing on the scoreboard during power-plays.
Right now, Chicago is red-hot and isn't showing any cracks. Heading into a home stretch with another win will only make the team stronger, and the Madhouse louder.