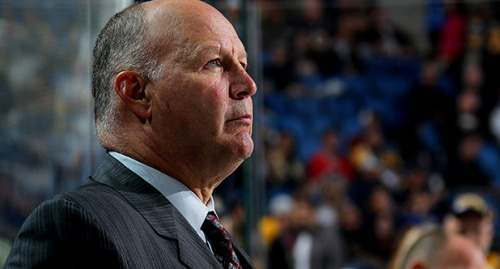 It's been a little less than a month since hockey returned to make lives complete once again, and the Boys in Black and Gold continue to put a heavy strain on our hearts that will probably lead to cardiac arrest one of these days.
Don't kid yourself, it's bound to happen.
While they may have had a bit of a rough start, The Bruins are finally finding their footing and getting back to the rough and tough Boston Hockey we've grown to love so dearly.
Such as last year's concussion/flu catastrophe, key defensemen have been left slightly incapacitated early on in the season, making winning games one hell of a roller coast ride. With Torey Krug – with basically half of his finger nearly cut clean off – Zdeno Chara, and Kevan Miller still out due to injuries, our defense (even with McQuaid, Seidenberg, and Hamilton) has been struggling to keep pucks away from our zone.
David Krejci, out with an undisclosed injury, has now been told by the trainer's to Coach Claude Julien that he is "day-to-day" with a minor chance at game play Tuesday night against the Florida Panthers.
Hey, that's better than nothing. So please, stop hitting your head against the wall.
Injuries and heartbreak aside, Bruins fans across the NHL nation have finally had a break in the storm with the news of Claude Juliens multi-year contract extension. Join together and rejoice! The Hockey Heavens have heard our prayers once again!
Late Sunday afternoon on November 3rd, General Manager Peter Chiarelli announced Julien's extension.
"…There was never a doubt in my mind that this would get done," Chiarelli told the press.
And it's a damn good thing that it was done. If it hadn't, Boston would nearly imploded and Chiarelli would have been tarred, feathered, and thrown in the harbor with the tea because that's how we roll here in B-Town *Cheesy Boston stereotypes intensifies*.
Since Julien has been the coach of the Boston Bruins, he has a .632 win percentage with 553 games played with well over 300 wins.
Julien holds the club career coaching record for playoff games won at 57, with Boston having 53 post-season wins over the past six years, ranking them the second highest among all NHL teams in the league. That's right folks. Take that all in.
The Boston Bruins have had their 3rd and 4th best seasons in team history under Julien. I repeat: Team. History. *fist pumps the air violently*.
Players and fans alike adore Claude (and his beautiful facial expressions) with his attitude and coaching style both on and off the ice. But really, how could we not?
Praise the Hockey Gods that they have given us such an angel as Claude Julien himself.
Love Reading About Hockey?

Subscribe to keep up-to-date with the latest and most interesting hockey news!
| | |
| --- | --- |
| | We hate spam just as much as you |