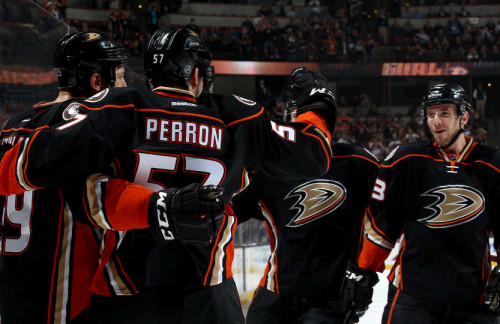 It seems Anaheim Duck's management has started to think long term, with several young players reaching RFA this summer, they've seen it necessary to allow for some salary wiggle room. Last Friday (January 15), Anaheim completed a trade with the Pittsburgh Penguins, left wing David Perron and defenseman Adam Clendening for left winger Carl Hagelin.
Hagelin was Acquired from the New York Rangers by Anaheim June 27th, in exchange for Emerson Etem and a 2nd round draft pick in the 2015 NHL draft. However with the Ducks, Hagelin went 43 games with only 4 goals and 8 assists, ending his season with the Ducks with a -10 +/-. Bob Murray, during a conference call on Saturday commented on the trade saying, "Hagelin was starting to work here a little bit with Kesler's line, but I don't think the fit was great with us."
Adam Clendening, a 23 year old Defenseman from Niagara Falls, NY, is a solid addition, helping the Ducks recurring problem of minor injuries among their defensive roster. Clendening was originally drafted 36th overall by the Chicago Blackhawks, played 4 games with them and was traded to the Canucks, where he split his time between them and their AHL affiliate. The Penguins acquired Clendening in July where he played 9 games with 1 assist before this trade.
David Perron, a 27 year old native of Sherbrooke, QC, was originally drafted 26th overall by the St. Louis Blues in 2007. He stayed with them until 2013 when he joined the Oilers and then the Penguins in 2014. Murray commented on Perron's place within the team, "He definitely needed a change of scenery from Pittsburgh. We've all seen him get very hot at times. We can use someone getting really hot." It helps too, that Perron had a solid Debut game with the Ducks the other night despite the loss to L.A., scoring his first goal with an assist from captain, Ryan Getzlaf.
you can tell he has skill. The shot he took was a skilled shot. I look for bigger things from him. – Boudreau [on Perron]
After finally practicing with the team, Perron has been placed on the second line with Ryan Kesler and Jakob Silfverberg as well as on the first powerplay unit. He picked up his second point as a Duck, in as many games, through an assist to Chris Stewart's goal against Minnesota last night.
Lookout for possibly further trades, as Murray hinted that management has been looking in the East for more deals and is open to the possibility of other players that could be hiding out there.
Love Reading About Hockey?

Subscribe to keep up-to-date with the latest and most interesting hockey news!
| | |
| --- | --- |
| | We hate spam just as much as you |