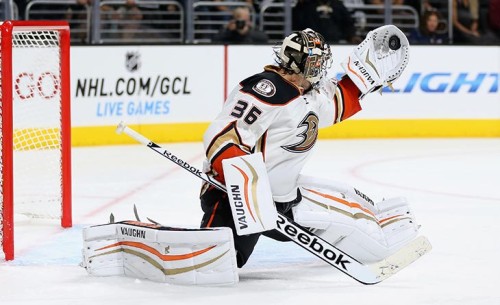 This year's NHL All-Star Weekend showcases the changes made to the regular season's OT with its 3-on-3 format through a 3-game tournament. Players have been separated into four teams, by Division, all of which will take part in a three-game tournament to crown the Champion All-Star Division of the league.
The NHL named two Anaheim players to Nashville as part of the Pacific Division Team, who's captaincy remains uncertain: Corey Perry, who will be appearing for his fourth All-Star weekend, and alongside him will be rookie goalie, John Gibson. Drafted in 2011 by Anaheim 39th overall, Gibson appeared last year in 23 games with the Ducks and 11 with their AHL affiliate in Norfolk, missing 21 games due to a groin injury and one for an upper body injury.
"It's an honor. I didn't really expect it but it's something that any time you get named there, its always an honor and it'll be fun to be a part of…it's a couple weeks away and still want to focus on what we've got to do here and then hopefully enjoy that [the all-star game] when it comes"
This season though, with sporadic injuries from Frederik Anderson, Gibson has certainly grown into his role as rookie goalie. Gibson, on January 3 against Winnipeg, passed Giguere for third longest shutout streak in Ducks franchise at 1:84:30 without a goal. He now also holds the longest shutout period for a rookie in Ducks history. During the same period of time, Gibson marked a career high of a four game win-streak. He currently leads the league with least GAA at 1.90 despite the teams record of 19-18-7, which leaves them 5th in their division.
Gibson beat out Jack Eichel of the Buffalo Sabres, Artemi Panarin of the Chicago Blackhawks, Jonathan Marchessault of the Tampa Bay Lightning, and Shayne Gostisbehere of the Philadelphia Flyers for Rookie of the Month. It is well deserved too, as Gibson has several times now, kept the team afloat during such a trying season. His consistency does not go unnoticed.