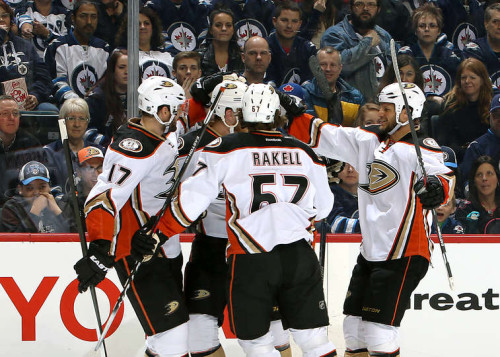 During the first half of the season, on paper, the Anaheim Ducks looked like a team that should be winning two points left, right, and centre. Unfortunately, they just couldn't seem to convert their sheer talent into goals. This left many Ducks fans, and anyone else who knew anything about hockey, dumbfounded.
The Ducks have managed to pull themselves out of one of their deepest holes in any of their recent seasons. As of January 10th (at the halfway mark in the season) they had a record of only 17-17-7, and only 41 points in 41 games. This put them solidly in fourth place in the Pacific Division, and a dismal 25th overall. Based on last years playoff numbers in the Western Conference, the Ducks would need 97 points to guarantee a spot in the post-season.
Needing 56 points to reach that playoff spot, the Ducks would need to win at least 28 of the final 41 games (about 68% of the second half of the season). Many believed they wouldn't be able to achieve it.
However
31 games later and less than a dozen games left, the Ducks find themselves with 89 points and a record of 40-23-9. If their shutout win against Boston last week proved anything, the Ducks will easily achieve another eight points in the last 10 games of the season. The Ducks have won 23 of their last 31 games, bringing them to 2nd in the Pacific, 5th in the Western Conference, and 7th in the League. It's a tentative place in the division as San Jose is trailing by only one point, but the fourth place team (Arizona) is well out of the race with only 71 points.
Since then, the Ducks have not only brought themselves out of their hole, but also broke their franchise record of a ten game winning streak when they beat L.A. on March 5th, bringing their new record to 11 wins in a row.
WHATS CHANGED?
Coming up to the trade deadline, Anaheim had made only a few moves, but as the date drew nearer changes began to happen. Sending off Carl Hagelin, Kenton Helgesen, Tim Jackman, Patrick Maroon, Jiri Sekac, and Chris Wagner may have sparked something in them. This, in tandem to the new additions, seems to have brought them new life and a team chemistry that they hope to maintain through the post-season.
Replacing those forwards are:
Ryan Garbutt
-Acquired from the Blackhawks and played his debut January 23rd @ DET
-Plays centre
-Scored three goals against Anaheim in the 2014 playoff run with Dallas
David Perron
-Acquired from Penguins January 16
-Left winger
-Has played 27 games now with the Ducks and so far and has 8 Goals and 12 Assists
Jamie McGinn
-Acquired from Buffalo at the draft deadline
-Left winger
-has played 9 games with the Ducks and has 4 Goals and 1 Assist
Brandon Pirri
-Acquired from the Panthers February 29th
-Plays Centre
-Has now played two games with the Ducks after recovering from an ankle injury
The height, weight, and skill added by these players seems to be propelling the Ducks forward into a post-season worth watching. The continued contribution and chemistry from the new and old players such as, Getzlaf, Perry, Kesler, Rakell, Vatanen, Silfverberg…well, if I kept going I'd end up typing out the whole team. With these next dozen games, we'll see how they end up, but they seemed to have learned from their slow start, and it looks promising.