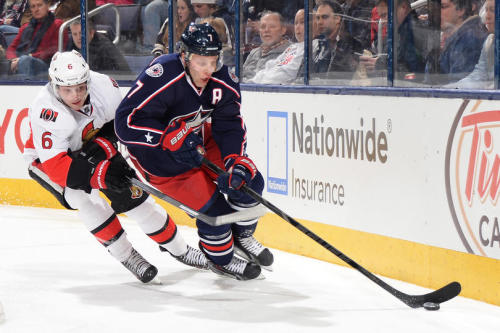 Who: Ottawa Senators
Where: Canadian Tire Center, Ottawa, ON
When: 7:00PM
Know thine enemy: The Sens have been hot out of the gate, second in the Atlantic Division through their first handful of games. Kyle Turris and Clarke MacArthur are back it again this season after enjoying a solid season in 2013-14. The duo are far and away the best offensive players on the team (aside from Erik Karlsson) and it shows.
The offense has been okay so far, but it's the defense and goaltending that's getting the job done for the Sens. They have a nice little tandem going in net with Craig Anderson and Robin Lehner. The former has a .939 save percentage and 2.01 GAA while the latter has a 1.85 GAA and .950 save percentage in his one start. Part of the reason things went so poorly last year was due in part to the health issues Anderson had that kept him out of the lineup.
The Sens are quick and play with a lot of energy; there's a reason they were called #PeskySens a couple of years ago. With everyone healthy and the big guys contributing, the Sens look like a more confident, healthier version of last year. They're sneaking up on a lot of folks right now and could continue to surprise.
About the Blue Jackets: The Jackets just keep plugging away. They picked up the win last night at home against a weak Calgary team, but this will be an early challenge for Columbus. The Jackets like to outskate everyone and hit everything that moves, but a team like the Sens can keep up with them.
Ryan Johansen, who has been better than advertised in the first handful of games, needs to assert himself early on, getting physical and getting pucks on net. He's done a fine job playing through conditioning issues and the team is leaning more heavily on him.
In net, it'll be Curtis McElhinney giving Bob a spell. He's about as average as can be for a backup, so cutting down on the shots and forcing bad angles from the Senators forwards will go a long way towards helping him have a solid night.
The part where I predict things: The Jackets are a lot more physical, but these teams both like to skate so it should be a fun, energetic romp. The difference here is the goaltending. The Sens can go with Lehner if need be and not miss a beat; the same can't be said for the Columbus goaltending.
Expect the lack of Bob and the home crowd to be the difference maker here.
Score: 3-2 Senators
Follow me on Twitter: @TwoPadStackRW
Love Reading About Hockey?

Subscribe to keep up-to-date with the latest and most interesting hockey news!
| | |
| --- | --- |
| | We hate spam just as much as you |