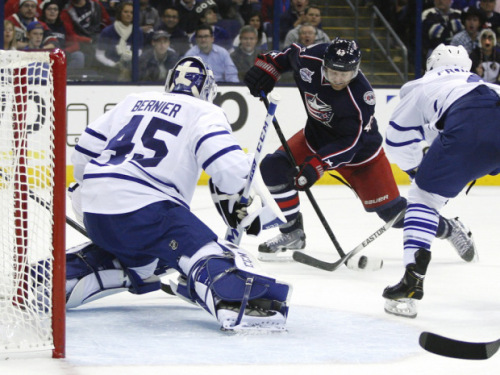 Welcome to "Three things", your recap-like-substance for Columbus Blue Jackets games. No one wants to read "this happened, then this happened" boring recaps, so instead of doing that, we'll look at three important things from the night's action and talk about those.
This is a weekend edition, covering the 4-1 loss to Toronto on Friday and the 3-2 loss to New Jersey on Saturday.
Sinking Ship
The game against Toronto really seemed to solidify for me that the ship in Columbus may be dead in the water and there is little to nothing the Blue Jackets can do to fix that. They have dealt with so many injuries, they're struggling to ice a competitive team and it is showing.
The Bobrovsky injury might be the most damning, as he's not only a very good goalie in his own right, but the gap between he and Curtis McElhinney is just too big for there not to be a huge drop off when the latter is forced to carry the load for a short time. He wasn't very good against Toronto and hasn't looked good in the last few seasons.
Ryan Johansen kept his streak alive on Friday with an assist, but he can only do so much for so long. This team was doing admirably well to start, but they've shown their human side thanks to even more attrition. It's still early in the season, but with so many guys not set to return until closer to the end of the month, the Blue Jackets might not be able to recover from this start.
Struggle to finish part deux
I talked about this a little bit in their last game with the Senators, but the game against the Devils on Saturday was another example of this team being unable to help itself out by finishing games off that they lead late.
On Saturday, they were playing well, holding a 2-1 lead with eight minutes and change off the clock in the third period. They then took a penalty and gave up a power play goal to tie the game before ceding the game-winner just under two minutes later.
I get that they are in a tough spot right now, but the very last thing this team can afford to do is throw away badly needed points when they're in a position to take them. Things are going to be difficult enough as the season goes without having to make up for lost points.
Johansen's streak comes to an end
I don't think enough can be said about Ryan Johansen's performance through the first 10 games of the season. We all know the story: he held out in an ugly contract negotiation leading into the season, missing all of camp and the preseason before finally striking a deal at the 11th hour.
He came into the season out of shape and his coach clearly agitated with that fact. Instead of struggling out of the gate like we all expected, he picked up five goals and 13 points through his first 10 games to give the Jackets a fighting chance. Saturday night's tilt was his first game without a point this year and it's kind of scary to imagine where the Jackets would be if he hadn't been playing so well to start the year.
It's still early, but this may be Johansen's true breakout season if he keeps playing this way in the face of such huge adversity.
Follow me: @TwoPadStackRW