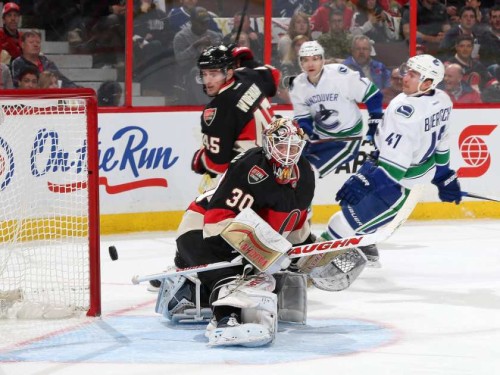 Erratic: defined as acting, moving or changing in ways that are not expected or usual. Also defined as not consistent or regular. In other words, the definition of erratic may as well be the 2015/16 Ottawa Senators.
Yes, the Sens may appear steady to the naked eye – sitting 2nd in the Atlantic Division will have that effect – but the road to their 8-5-4 record has been anything but. There are a number of culprits – ranging from a lack of discipline, to embarrassingly poor advanced metrics and everything in between – but chief among them has been an overwhelming lack of consistency.
Diagnosing the cause of the consistency issues is no easy feat, but the most tangible explanation is the Sens are a team with two faces (Dr. Jekyll and Mr. Hyde, if you will). In contrast to such teams as the Montreal Canadiens and New York Rangers who find a way to play the same style night in and night out with regularity, Ottawa continues to struggle with such a task.
At their best, the Sens are a team that can score in bunches, play shutdown defence when needed and gets bailed out by great goaltending more often than it would care to admit. At their worst, not even strong goaltending is enough to compensate for a defensive unit that surrenders too many quality scoring chances and an offensive group that is unable to generate many shots.
The problem is the Sens have yet to be able to string together multiple consecutive games playing their best hockey. Instead, they often find themselves playing somewhere in between the two extremes, combining the kind of goaltending that makes them successful with the lacklustre defence and poor offensive play that gets them into trouble – hence their roughly .500 record.
Against the Detroit Red Wings in late October, the Sens showed just how quickly they can transform from a good team to a bad team. In the first leg of a home-and-home, the Sens played what was (by all accounts) one of their best games of the season, emerging with a 3-1 road win. Not even 24 hours later the Sens laid an egg on home ice, losing by a very flattering score of 5-3.
Despite not making any roster changes – with the exception of swapping out Andrew Hammond for Craig Anderson in net – the Sens played like two completely different teams. Unfortunately for the Sens, the same fact would hold true for any given three to four game stretch at any given point through the first six weeks of this season.
The Sens are more than fortunate to be in their current position in the Atlantic Division – largely because of their incompetent divisional foes, but also because their frequent appearances in overtime and the shootout (eight times in 17 games) are about the only consistent part of their game. That playoff spot may not be theirs to hold for long unless their play can become characteristic of another word.
Perhaps stable: defined as being in a good state or condition that is not easily changed or likely to change.