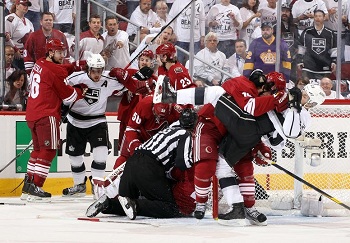 Surprisingly enough, the ice didn't melt in the Phoenix desert, and Game 1 did in fact take place between the Coyotes and the Los Angeles Kings.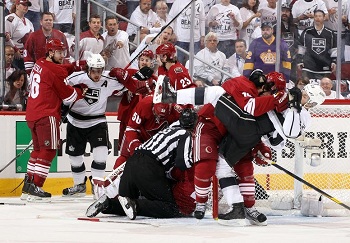 The Kings won this opening series game 4-2 pretty easily, or so it seemed, having a 23 SOG advantage over the Coyotes.
Even after having a week off, the Coyotes looked weak. They knew it too. "This is the conference (finals). We didn't play well enough for a regular season game," said Captain Shane Doan.
Jerry Brown of NHL.com reported: "Hoping that a week of rest might cool down the NHL's hottest team, Phoenix had all kinds of trouble keeping pace and didn't match the effort from the opening faceoff." Too true. The 'Yotes held on through the first and second, but there is no denying they were out-hustled and too exhausted by the third to keep up.
Anze Kopitar had the first goal of the game with a tasty back-hander giving the Kings a 1-0 lead about seven minutes into the first.
The highlight moment for the Coyotes (had they won could have made this guy the "hero of the game"), was Derek Morris' bomb from the red line. This 98-foot slap shot at 13:26 into the first period skimmed off the ice and sailed over Quick's outstretched right pad to tie the score at 1-1.
Second period produced another goal from each team, Mike Richards for the Kings and Mikkel Boedker for the 'Yotes.
It was this fatigued third in which the Coyotes sunk to the relentless Kings. Dustin Brown beat Smith stick side on a mini breakaway for his seventh goal of the playoffs making it a 3-2 game, followed by an empty-netter goal, ending this Game 1 with a 4-2 victory for the Kings.
Los Angeles is 9-1 in the playoffs and has won six games in a row on the road. On Tuesday the Kings will go for no. 7 in Game 2.