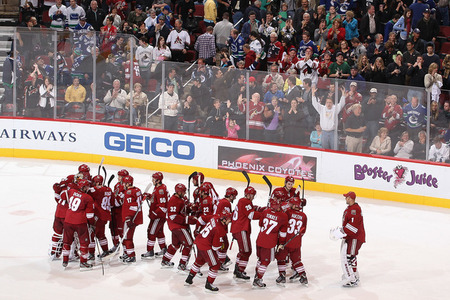 The disfavored Coyotes out in the hot Phoenix desert typically get no love, but it is hard to deny them some attention after Tuesday night's win over Vancouver put them at an 11-0-1 month of February. The 2-1 shootout victory over the League's No. 1 team set a record month for the 'Yotes, and was their sixth straight win following an ironic 2-1 shootout loss to Vancouver on February 13th.
Additionally, the Coyotes have won seven home games in row – the longest active streak in the NHL.
The newly dubbed "ageless" Ray Whitney tied the score with 10:17 left in regulation, and then scored in the shootout to set up teammate Mikkel Boedker with the winning SO goal. Whitney has been on fire this season, and with 19 regular season games to play the left winger only needs 17 more points to reach 1,000 for his NHL career.
"We worked hard tonight," Whitney told The Arizona Republic. "The skill level and pace they (Canucks) play at is very high, and for a bunch of muckers like us, we got to we got to put the work boots on and just try to stay as close as we can and get some timely production. And again, I can't emphasize enough the guy in net was key for us again."
That key component in the net has been goaltender Mike Smith. With 39 saves Tuesday night, Smith upped his winning streak to a career-high and franchise record 11 games. He has made 315 saves and allowed just 16 goals during the streak. The best save of Tuesday's game occurred in the first minute of OT, with Smith robbing Daniel Sedin on a scary cross-crease pass from brother Henrik. The goaltender humbly credited his defenseman during his post-game interview, saying "we've improved so much as a group and we're just finding ways to win hockey games and tonight was just another instance of that."
It looks like last month's success has given the Coyotes some confidence, and perhaps they can continue to rally around that. Hopefully the desert dogs can keep the momentum going. The numbers surely continue to prove that this team is serious about winning, and coach Dave Tippett isn't about to let up.