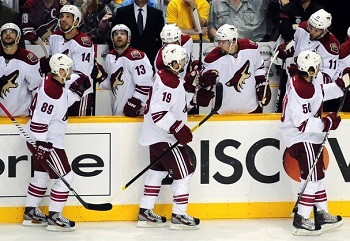 Grit. Definition, in the dictionary- backbone; fortitude and determination. Definition, in the NHL- the Phoenix Coyotes.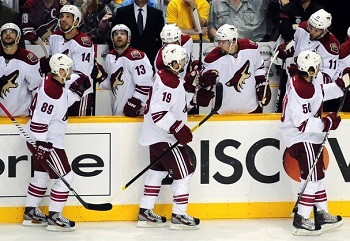 With the Coyotes successfully obtaining another win in Game 4, the team is proving that they have harnessed a nothing-is-going-to-stop-me attitude that I'd like to characterize as grit.
This year the Coyotes had launched a marketing campaign that couldn't be more fitting. "Hockey The Hard Way" is a brilliant and true response to all of the criticism these desert dogs have suffered through. Not just a marketing gimmick however, this is a real manifesto- one that the Coyotes have absolutely been living up to.
Last night Phoenix took a commanding 3-1 lead over Nashville in their Western Conference semi-final series.
Captain Shane Doan proved a born leader, scoring the only goal of the game at 14:25 in the first. With tenacity and physical play, the Coyotes spent the remainder of the game on the defense. Nashville had numerous opportunities, winning 14 of 18 faceoffs in the second, and using the extra possession time to create 24 shot attempts- twice as many as they had in the opening period. The third was a nail-bitter, with the Predators pushing even harder and boasting a 10-5 shot advantage. Good thing Coyotes goaltender Mike Smith is as on top of his game as ever.
After the game, Eric Adelson of Yahoo Sports wrote:
"This franchise is such an underdog that the term 'underdog' doesn't even fit. The Coyotes are stray underdogs. So when asked how it feels to be one win away from a shot at the Cup final, Doan all but twitched. He averted his eyes and said, 'We need one more win. That's all we talk about.'"
Looks as if Doaner and his boys have seriously embodied their M.O. Grit- real, ruthless, and relentless as it is, has had a colossal influence on the success of this franchise. Because as the 'Yotes say, when hockey gets harder, so do they.
The Coyotes' next game is Game 5 on Monday vs. the Nashville Predators at Jobing.com Arena. The puck drops at 7 p.m. (Arizona time). The game can be seen on NBC Sports Network, watch it.