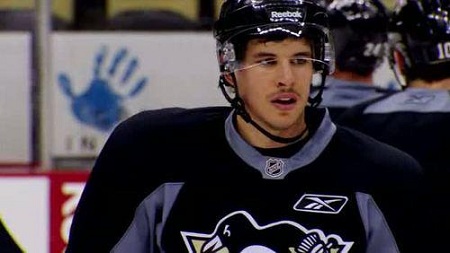 True to form, Sidney Crosby's superstitious nature is making headlines. Pittsburgh's favourite adopted son agreed to a twelve-year contract extension, worth $104.4 million on Thursday. The new contract will carry an annual salary cap hit of $8.7 million—matching his current one. This is fitting for the captain, born on August 7, 1987 and dons 87 on his sweater.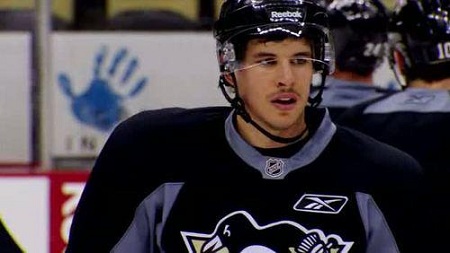 Touted as the NHL's poster boy, Crosby could have easily commanded a pay raise from both the Pittsburgh Penguins and other markets. Instead, he opted for the most sensible solution for the franchise: sign for less than market value, ultimately allowing the Penguins to pursue big names such as Zach Parise, Shane Doan, and Ryan Suter. The task will become more feasible with the salary cap expected to increase to $70 million from last year's $64.3 million. With Crosby's average annual value remaining at $8.7 million, the Penguins will make no drastic changes to their salary structure moving into the free agency period.
"As Sid always says (about contract offers), 'That's fine, but how does it help the team?' " said general manager Ray Shero from his office in Pittsburgh via telephone. "He came back after he talked to Pat and said this AAV is really what I want to help the team. He's never been reluctant to help the team and we appreciate that. It says a lot about Crosby." From Shero's standpoint, the objective was crystal clear: secure Crosby's status as a Penguin for the duration of his career.
Fortunately for Shero and the Penguins, Crosby is on the same page: "When we started the discussions, Sidney wanted to be a Penguin forever. When this contract is starting, he'll be 26. He's been in Pittsburgh for seven years now and he knows how committed the organization is and it made sense to want to explore a long-term deal immediately." commented Crosby's agent Pat Brisson of CAA Sports.
Crosby's extension will come into effect for the 2013-2014 season through to the 2024-25 season. According to the terms of the collective agreement, Crosby cannot sign the contract until Sunday.
Following the announcement, The National Post in Canada called the extension "one of apparent risk, given his recent concussion history." For the Penguins faithful, the nagging memory of Crosby's concussion ordeal—an injury that sidelined him for the better part of two seasons—leaves a wound that is still raw. But, it is healing. According to Brisson, Crosby has made strides in his off-season workouts, consistently testing his limits and improving his skills.
"Since he came back in the regular season and in the playoffs he felt really good. And he's been training hard and feeling really well compared to last summer, its been night and day, its been very encouraging. And he's looking really well, and he's feeling well, based on what he tells us." said Brisson when asked if any health issues are looming.
The Penguins never expressed a concern or doubt in Crosby's health. The team remained confident and took solace in his progression, which only served to reaffirm their commitment to Crosby. Having played only sixty-nine games in two seasons, the words uncertainty and caution attached themselves to Crosby's name.
It is logical to note that every player in NHL is a risk. The game is fast paced, physical, demanding, and at times, unforgiving. There is a plethora of injury causing situations—both on and off the ice. Blocked shots, participating in warm up without a helmet, engaging in a fight, or even reaching for maple syrup at the breakfast table can result in injury. Furthermore, many off-season activities—such as boating, swimming, and extreme sports—can go array and threaten a player's ability to play hockey. But this point is unexplored. Crosby's situation garners attention because of his status and the mystery of concussions. There is an inherent risk with every contract in today's NHL—whether or not your surname is Crosby.
Another criticism concerns itself with the curse of the long-term contract. Alexander Ovechkin has been unlucky since inking a lengthy deal. Ilya Kovalchuck was criticized for underachieving immediately following a contract with the New Jersey Devils for seventeen years. But there remains one glaring and obvious rebuttal: Crosby is neither Ovechkin nor Kovalchuck. Crosby finds comfort in the familiar and routine—from specific routes to the locker room in the Consol Energy Center to pregame peanut butter and jelly sandwiches and a lucky cup. He has repeatedly expressed his connection to the city and citizens of Pittsburgh. In that vein, Crosby is comfortable in Pittsburgh—which will translate into success on the ice. If nothing is broken, don't fix or change it.
The Penguins have worked closely with concussion experts at UPMC—a leader in sports medicine—and Crosby has sought medical advice abroad. Expert opinion has told him he is progressing. Empirical evidence and testing has proven he is progressing, His own body has told him he is progressing. At this point, uncertainty should fade and make way for better days. There are no crystal balls or tarot cards offering absolutes to Shero and the Penguins. That is true for life on and off the ice.
But faith, confidence, and instinct have come into play here. Crosby's leadership, maturity, and prowess on the ice makes him worth it. In the final fourteen games of the 2011-2012 regular season and six games in the post season, Crosby earned 33 points. He remains the youngest captain—at twenty-one years, ten months, and five days—to lead his team to the Stanley Cup. Canadians will recall Crosby scoring the overtime goal at the 2010 Vancouver Olympics, securing the gold metal for his country. Further, Crosby has won the Hart Trophy, Art Ross Trophy, Rocket Richard Trophy, Ted Lindsay Award, Mark Messier Leadership Award, and four ESPY Awards for Best NHL Player. He has 223 goals and 386 assists (609 points) in 434 regular season games and 33 goals and 57 assists (90 points) in 68 post season games. It is faith that has bonded the Penguins to Sidney Crosby—for the long haul.