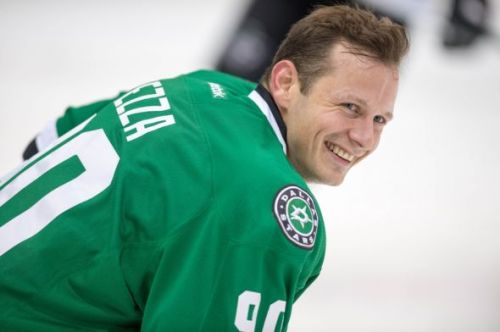 It's that time of year again Stars fans! The ice is painted and the Stars are just a week away from their first regular season game of the 2014-2015 season. It's time to break out your victory green gear and make your way to the American Airlines Center to support Jamie Benn and his boys as they look to not only make it back to the playoffs, but finally capture the Stanley Cup for the first time since 1999.
Big changes have been made in the offseason that have brought in new players as well as kept familiar faces in Big D.
New Additions
"In Nill We Trust"
This is a phrase that you are likely to hear from any Stars fan when talking about Stars general manager Jim Nill. After joining the Stars after the 2012-13 season, Nill has seemingly made nothing but great moves, beginning with the trade that saw Tyler Seguin and Rich Peverley coming to Dallas. This time around Nill managed to acquire Jason Spezza from the Ottawa Senators, which will add a lot of depth to offense. Spezza will join centers Tyler Seguin and Cody Eakin to form three strong offensive lines that are likely to be deadly this season. In addition to the offensive depth, Spezza, 31, has plenty of playing experience and will help serve as a veteran presence and help with the development of younger players.
Soon after trading for Spezza, news broke that Nill had signed free agent Ales Hemsky. Hemsky, 31, is a right wing who spent about 10 and a half seasons with the Edmonton Oilers before making his way to the Senators in a trade last season. While in Ottawa, Hemsky played alongside Spezza and will do the same as a Dallas Star. Hemsky and Spezza have already proven to play together quite well in training camp as well as preseason games, showing signs that they will be great additions to the team this season.
Another free agent signed by Nill was right wing Patrick Eaves. Eaves has played with the likes of the Senators, Carolina Hurricanes, Detroit Red Wings, and most recently the Nashville Predators. Eaves is a solid forward that has been known to put up some decent numbers, but has been plagued by injury in the last few seasons. He played five seasons in Detroit before being traded to Nashville, but only played five games with the Predators.
Two goalies were signed by Nill as well. Jussi Rynnas, who played briefly with the Toronto Maple Leafs before returning to Finland, will be playing with the Stars' AHL affiliate Texas Stars. Anders Lindback was signed as well and will spend this season as the backup for Kari Lehtonen. Lindback has spent time on both the Nashville Predators and the Tampa Bay Lightning and has a career save percentage of .901. At 26 years old, Anders Lindback is developing as a player and will likely serve as a solid backup for Lehtonen, something the Stars struggled to find last season.
The Team
Jamie Benn will once again lead his Stars this season as the captain. According to the Stars website, Shawn Horcoff is the only player to officially have the "A", but Trevor Daley and Vernon Fiddler were the ones to wear it during the preseason.
The Stars finished the preseason with a record of 4-2-0, giving the fans of things to come in this season and getting a chance for everyone to get familiar with the new players, something that seemed to have happened, with Spezza and Hemsky in particular working well with other Stars players, particularly while playing with left wing Antoine Roussel. Roussel has seemed to have stepped up as a player and is eyeing the 2nd line left wing spot, but has still shown that he is the Stars' lead enforcer, even fighting former Star Steve Ott during the preseason.
Throughout out the preseason Lindy Ruff has seemed to move the lines around, with the first line focusing on the duo of Benn and Seguin and the second line focusing on Spezza and Hemsky. Through much experimentation it seems as if he may have found a lineup, at least for now.
This morning the lines were as follows:
First line
Jamie Benn – Tyler Seguin – Valeri Nichushkin
Second line
Erik Cole – Jason Spezza – Ales Hemsky
Third Line
Antoine Roussel – Cody Eakin – Ryan Garbutt
Fourth Line
Shawn Horcoff – Vernon Fiddler – Sceviour/Eaves
D1
Alex Goligoski – Trevor Daley
D2
Patrik Nemeth – Jordie Benn
D3
Jamie Oleksiak – Kevin Connauton
Now that Brenden Dillon has been resigned he will likely rejoin Jordie Benn in the second pairing, leaving the third to be made up of Nemeth, Oleksiak, and/or Connauton while Gonchar is out for 3-5 weeks with a fractured ankle.
On top of this, the Stars displayed a deadly new powerplay line, composed of Jamie Benn (LW), Jason Spezza (C), Ales Hemsky (RW) with Tyler Seguin and Trevor Daley on defense. This line is full of offensive power that is sure to do some damage to anyone unfortunate enough to have to deal with them.
Keep up with all the latest Dallas Stars and hockey news here at Hooked On Hockey as we move into the 2014-2015 season!