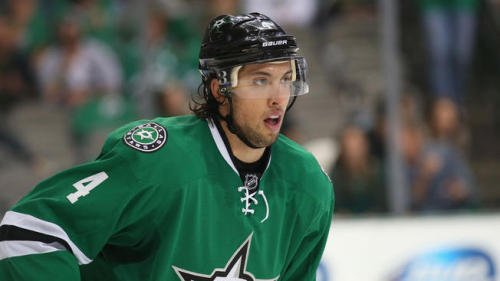 It appears the Dallas Stars aren't quite done with their defense, as they have traded d-man Brenden Dillon to the San Jose Sharks just a week after trading Sergei Gonchar to the Montreal Canadiens and days after losing Kevin Connauton to the Columbus Blue Jackets on waivers.
The Stars have received defenseman Jason Demers from San Jose as well as a third round draft pick in 2016. With Demers the Stars will be gaining a d-man with a right-handed shot and good puck handling skills, which could come in handy in helping their struggling defense. The Sharks will be losing that, but gaining size with Dillon standing at a massive 6'4″ and weighing in at 225 pounds.
Demers will be joining a struggling defense, still trying to find their bearings early in the season. He is a puck moving defenseman and will help out a lot getting the puck to forwards, which will in turn help generate more scoring chances for Dallas. He' will be joining a group almost exclusively of left-handed shots (with the exception of John Klingberg), so his right-hand shooting will definitely be of value to the Stars.
"You can see with our back end, we've been working hard on that," Stars coach Lindy Ruff said after practice Friday when asked about changes to the team this season. "We've made some adjustments and we've brought some younger guys in. I think the puck moving, what Klingberg has added, the right-handed defenseman, I think everybody has seen the dividends. When I got involved in the Olympics, the No. 1 thing we talked about was lefty-righty, lefty-righty, because they're under so much duress that when you're caught in your back end, a lot of times there's no play. So I think that part has helped."