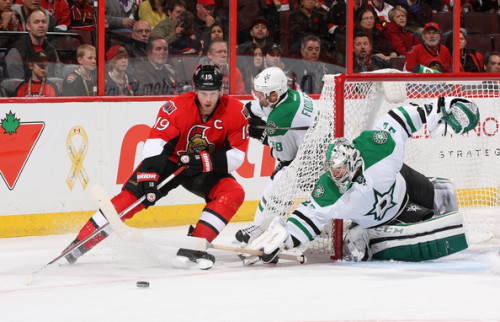 Almost exactly a year after Jim Nill's exciting trade that saw Dallas Stars veteran Loui Eriksson heading to the Boston Bruins in exchange for their new star Tyler Seguin, it appears as if Nill has possibly done it again, this time acquiring Jason Spezza from the Ottawa Senators.
Senators GM Bryan Murray had been looking to make a trade deal after Spezza had apparently requested a trade. The first deal came at the draft with the Nashville Predators, but was shot down by Spezza with his no-trade clause. This made for a perfect move for the Dallas Stars, who have shown interest in Jason Spezza to solidify their top line with Jamie Benn and Tyler Seguin. The deal came early on July 1 when the Dallas Stars sent prospects Nicholas Paul, Alex Guptill, second-round draft pick in 2015, and young rising star Alex Chiasson in exchange for Jason Spezza and Ludwig Karlsson.
This appears to be a pretty good trade on both ends. The Stars aren't giving up too much, yet getting a lot. Spezza will likely be playing on the first line along with Tyler Seguin and Jamie Benn, which will help give the Stars a solid first line that can light up the lamp with no problem. The Senators now have a lot of young talent in Chiasson and have cleared a lot of cap space that they can use to fill the hole at center.