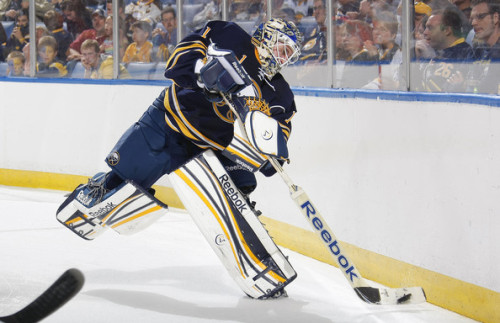 In an attempt to fix their problem of inconsistent goaltending, Dallas Stars GM Jim Nill has managed to snag Jhonas Enroth from the Buffalo Sabres in exchange for goalie Anders Lindback and a conditional third round pick in the 2016 NHL Draft.
As always, Nill made this trade with his mind on the future, saying, "Jhonas is an extremely instinctive, experienced goaltender and Head Coach Lindy Ruff has a familiarity with his game. Going down the stretch, where we have five more back-to-back situations, it was important for us to have a game-tested goaltender to help balance the workload."
Enroth is 26 years old and currently in his fifth NHL season. In 37 games this season he has 13 wins, 21 losses, and 2 OT losses with one shutout. He is currently 5-0 in the shootout and has stopped 20 out of 21 shooters. He is from Stockholm, Sweden and was selected by Buffalo 46th overall in the 2006 NHL Draft. Enroth will most likely be serving as a backup for Kari Lehtonen, but could possible be moved to head goaltender if Kari were to slip up.