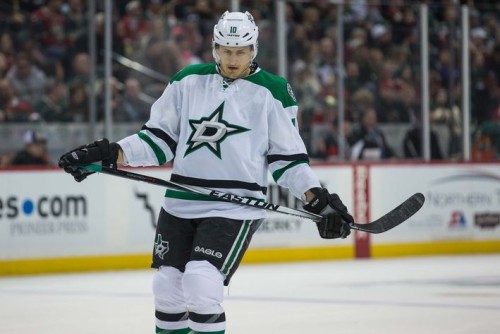 It's that time of the year once again. The teams on top are focusing on their playoff runs, the teams on bottom are looking towards the offseason training and draft, and the teams just below the playoff contention are stuggling to get just enough points to capture a wild card spot and/or defend that spot in the final stretch. Among these middle teams is once again the Dallas Stars, who have begun to focus on one game at a time, which seems to be working for them as they have won four games straight and are climbing the ranks towards playoff contention.
The Dallas Stars surprised many this season with their poor play, as a lot of fans and insiders expected them to do well after their return to the playoffs from a five year drought as well as the acquisitions of players such as Jason Spezza and Ales Hemsky, but their performance hasn't been so great, with many of their leads this season being lost in the final period of play. Despite the uninspiring play for most of the season, we have seen a sudden boost in the Stars that could help them make it back to the playoffs.
The Stars have taken the advice of head coach Lindy Ruff and begun to focus on one game at a time instead of the season as a whole, which seems to have helped them and lead to what is now a four game winning streak. Captain Jamie Benn has played a huge part in this boost, taking charge of his team better than he has all season and helping lead them in points. If he's not scoring goals he's getting the puck to someone that will and making plays. Also helping is Cody Eakin, the Stars' secret weapon of sorts. Eakin can fit onto just about any line and make points happen. He's a lot like the Stars' modern-day Jere Lehtinen: silent and often goes unnoticed until he's lighting up the lamps with another goal. He's a hard worker and loves to play hockey.
Also worth mentioning are the efforts of the team's two oldest players, Shawn Horcoff and Vernon Fiddler. If anyone on the team deserves recognition, it's these guys. Fidds and Horcoff have taken roles as veterans and team leaders, guiding the young guys and helping them be successful. Not only are they excellent leaders, but they've got some great hockey left in them, doing their fair share of putting points on the board for their team and helping to get the win often. As I've mentioned in recent articles, Vernon Fiddler is currently having one of his best seasons in his career, setting a new personal record for goals at 12 (previously 11), and will likely add another couple goals to that before the season winds down for good.