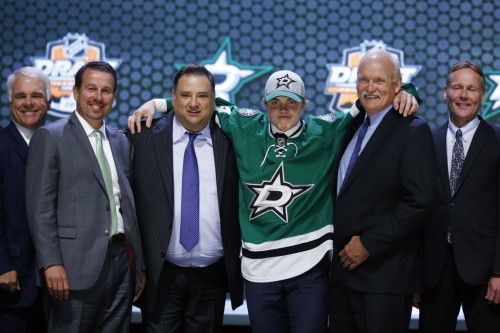 With a good selection of players and plenty of areas to improve upon, the Dallas Stars chose defenseman Julius Honka, a native of Finland, as their first round pick in this year's NHL Draft.
Honka is a right-handed defensemen who spent last season as a part of the Western Hockey League with the Swift Current Broncos in Saskatchewan, Canada. Despite only standing at 5'10" and weighing in at 180 pounds, Honka is known as a strong defenseman with great offensive decision-making skills as well as great skill skating, which will probably be reminiscent of his new teammate, Trevor Daley.
This looks like a good call for the Dallas Stars organization, considering their defensive struggle throughout the 2013-14 season as well as their postseason efforts. Honka will help to add both depth to Stars defense, as well as offense, due to his small size and skating ability.
At the moment Stars GM Jim Nill is planning on having Honka play next season in the Finnish Elite League, but also plans for him to play at the Stars prospect camp in Frisco, Texas July 7-13.