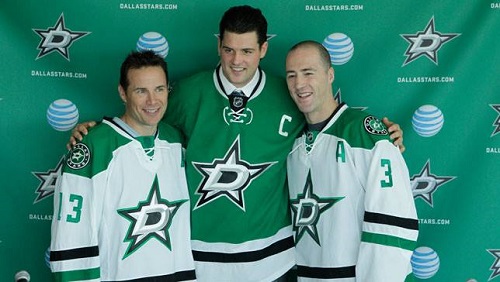 Wrapping up the preseason with a 4-0 win against the Edmonton Oilers and a preseason record of 5-0-2, the only better record being the Boston Bruins' record of 6-0-1, the Dallas Stars are showing that they've been hard at work in the off-season and are hungry to make it to the playoffs.
Many fans of the Stars have been questioning a lot of the moves being made by the organization, such as the trading of their captain of about 7 years Brenden Morrow and the brand new 'victory green' jerseys and new logo to match. Despite the many changes within the Stars organization, they have managed to show in the preseason that fans shouldn't count them out just yet.
The current Dallas Stars roster is, in my opinion, a very strong one containing a good collection of seasoned veterans that have been around a long time and know what a team needs and how to achieve victory as well as many young and promising players that are hungry for the Stanley Cup. Among the Stars roster are 6 Stanley Cup winners, Tyler Seguin, Rich Peverley, Erik Cole, Ray Whitney, Alex Goligoski, and Sergei Gonchar. These are some of the players that will help lead the others to the cup. They know what it feels like to work all season and have it end with them hoisting all 35 pounds of Lord Stanley above their head in victory.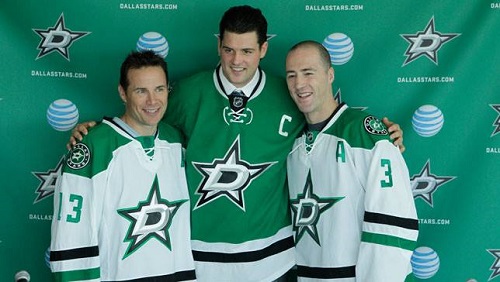 Among the leaders in the locker room is the newly named captain Jamie Benn. Although being a very soft spoken person, he is a very motivated player that wants to win. He has played with two Stars captains, Brenden Morrow and the great Mike Modano, and knows leadership. I fully trust that he will lead the team in the right direction along with his alternate captains Ray Whitney and Stars veteran Stephane Robidas. Jamie knows the task ahead of him this season and is ready to take on this task. He always works hard to win and lead his team and has a great team full of other players that will lead with him.
Overall, the Dallas Stars have become a well balanced team hungry to make their way back to playoff prominence. Although the preseason doesn't count, it can often be a taste of things to come later in the regular season. They have certainly worked hard and have shown their fans that sometimes change is good and is not always something to be feared, but should be embraced. It is a new era for the Dallas Stars, and I'm liking what I've seen so far.