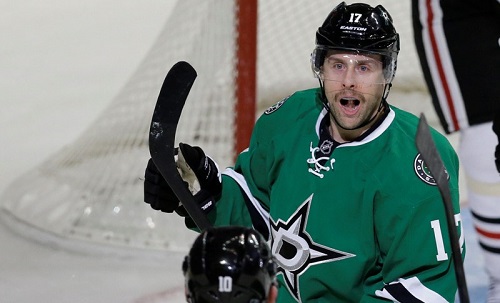 During their March 10th game against the Columbus Blue Jackets, the Dallas Stars had a major shock as forward Rich Peverley collapsed on the bench early in the first period.
About six minutes into the first period Stars players began screaming and banging their sticks on the boards, desperately trying to get the attention of medical personnel. Cameras cut to the Dallas bench to see Stars staff pulling someone into the dressing room.
Stars players such as Erik Cole, Trevor Daley, and Cody Eakin, among others, were seen crying on the bench and Vernon Fiddler reportedly began praying. The American Airlines Center was silent as everyone waited for news on what had happened. Players on both teams soon left the ice, with the Stars leaving through the visitor's exit instead of their normal tunnel.
While all of this was going on, Rich Peverley was noticeably absent, leaving everyone to put two and two together and realized something was wrong with 'Raptor Jesus' Rich Peverley. Rich Peverley suffers from a condition called atrial fibrillation is the most common form of cardiac arrhythmia and can cause heart palpitations and an irregular heartbeat. Rich has had multiple issues with this condition this season, most recently last week.
The game was postponed, but early reports are saying that Rich is okay and conscious.
"First thing Rich asked me when I spoke to him- 'How much time left in the period'. You know, typical athlete," said Coach Lindy Ruff.
More updates when the story develops. Please keep Rich Peverley and his family in your thoughts as we hope for a quick and healthy recovery.