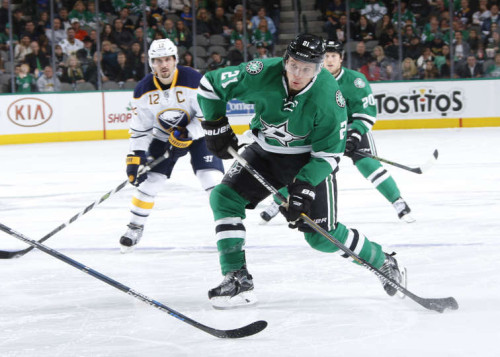 If you paid any attention to this past offseason, you'd probably be shocked at the Dallas Stars' quick rise to the top of the standings, while also getting the best season start in franchise history.
As of now, the Stars have a beautiful 17-4-0 record and have won the past five games in a row. Showing no signs of stopping any time soon, the Stars have displayed an immaculate offense, led by the likes of players such as Jamie Benn, Tyler Seguin, Patrick Sharp, and Jason Spezza. Backing up that offense is a a solid defense, the likes of which haven't been seen in Dallas for years. Leading the Stars defense are players such as John Klingberg, Johnny Oduya, and Alex Goligoski. And quite possibly the best change to this season's Stars is the new Finnish goalie tandem of Kari Lehtonen and Antti Niemi.
In the Stars' most recent win over the Buffalo Sabres, Niemi managed to pick up his second shutout of the season thus far in a 3-0 win, bringing his save percentage to .917 and giving him a goals against average of 2.41. Out of 12 starts this season, Niemi has a record of 8-3-0. Niemi isn't the only goalie doing well, as Stars veteran Kari Lehtonen 9-1-0 with a save percentage of .923 and GAA of 2.34. With both goaltenders doing so fantastically, head coach Lindy Ruff has expressed that he has no intentions of applying a tag of "#1 goaltender" to either men.
"I told them at the start of the year if they're playing well they're both going to play," Ruff said of the duo.
In addition to a rejuvenation in the goaltending department, Dallas has shown a significant improvement in their defense, with Alex Goligoski taking the reigns as alternate captain as well as head of defense. The 30 year-old defenseman has helped lead the defense with the consistency that has been lacking in recent years. Probably the most important highlight of this season's defense thus far is 23 year-old John Klingberg, not showing any signs of a sophomore slump, as he's already racked up 4 goals and 19 assists in just 21 games, and is currently leading the league in the plus/minus department at +14.
As for offense, Jamie Benn and Tyler Seguin are hotter than ever, perfecting their line with the new addition of Patrick Sharp and helping them as they battle with Patrick Kane for most goals and points in the NHL. Practically the entire offense has done phenomenal, dominating the scoreboard and always keeping their in the lead and closing out games well. In 21 games, Benn has already managed to 14 goals and 15 assists while Seguin isn't too far away with 11 goals and 19 assists. Also making big contributions to the scoresheet are players like Jason Spezza, Patrick Sharp, and Cody Eakin, who have each racked up 6+ goals thus far.
With a team this strong, the Stars are an early leader for the Stanley Cup, given their team stays healthy and continues to fight for their wins. In recent years we have seen the Stars go through amazing streaks, only to lose everything later on due to inconsistency, an issue that the Stars have appeared to have learned from their mistakes and corrected. At this point only time will tell how long Dallas is able to hang on to their number one spot in the league.