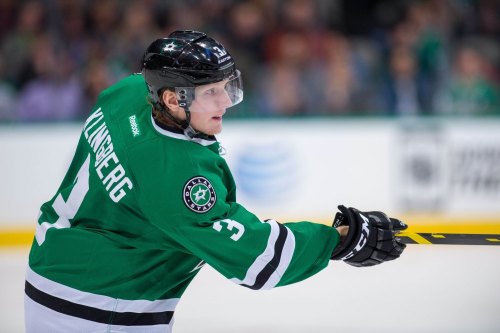 After a rocky start to this season, the Stars have found a silver lining in the defense with 22 year-old John Klingberg, who is already making quite an impact on defense and is earning a reputation as someone to look out for.
John Klingberg, younger brother of Carl Klingberg (currently playing for St. John's IceCaps of the AHL), is a Swedish defenseman who was drafted 131st overall by the Stars in the 2010 NHL Entry Draft. After being drafted he made his Elitserien debut as a member of Frölunda HC. In May of 2011 the Stars signed him to a three year entry deal before loaning him to play with Jokerit of SM-liiga in Finland. He returned to Sweden midway through the season to play with Skellefteå AIK.
Klingberg spent the 2013-14 season on loan to his original team, Frölunda HC, where he recorded his best season to date, scoring 11 goals and 17 assists for a total of 28 points, playing in 50 games. After Frölunda were eliminated from post-season play in seven games (where he recorded 4 assists), Klingberg was sent to the Texas Stars where he played 3 regular season games and recorded one assist.
Klingberg began this season on the Texas Stars, but was soon called up the play in Dallas in hopes to aid their ailing defense. He made his NHL debut on November 11, 2014 against the Arizona Coyotes. In just 10 games since then, Klingberg has managed to score three goals and five assists as well as help the defensive effort that has been holding the Stars back this season. He's a very offensive-minded defenseman and will often act as a fourth forward. He's incredibly mobile and can score from anywhere. In addition, Klingberg has plenty of hockey sense, does fantastic on powerplays, and can handle the puck pretty well. So far his only real downfalls are that he needs to possibly be more defensive and physical, but he's still young and developing, so this isn't too much of an issue just yet.
John Klingberg has been making a big difference on the Stars so far and just might find himself with a permanent spot in the NHL if he keeps up his great play. Be sure to keep an eye out for this guy as he and the Stars make their way to the top this season.