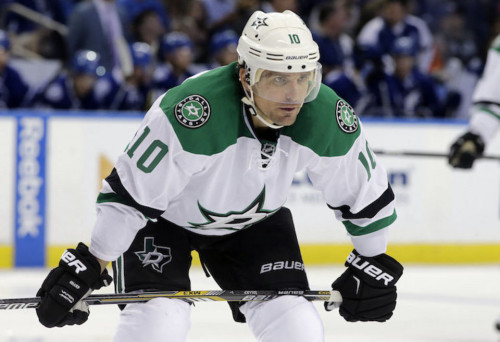 Name: Patrick Sharp
Position: Left Wing
Number: 10
Height: 6'1″
Weight: 195
Shoots: Left
Born on December 27, 1981 in Winnipeg, Manitoba, Canada, Patrick Sharp is a man that has proven himself time and time again to be one of the best players currently in the NHL. In the past five years alone Sharp has managed to add three Stanley Cup victories and and Olympic gold medal to his resume, and at 33 years old still has plenty of time to achieve even more.
Sharp played two seasons with the Thunder Bay Flyers of the USHL before making his way to the Vermont Catamounts while attending the University of Vermont. After two seasons in Vermont, Sharp entered the 2001 NHL Entry Draft where he was selected in the 3rd round (95th overall) by the Philadelphia Flyers. From 2002 to 2006 Sharp saw himself playing back and forth between the Flyers and their AHL affiliates, the Philadelphia Phantoms. During this time, Sharp scored 10 goals and 5 assists in 66 games with the Flyers and 52 goals and 62 assists in 163 games with the Phantoms. It was during the 2005-06 season that the Flyers sent Sharp and Éric Meloche to the Chicago Blackhawks in exchange for Matt Ellison and a draft pick.
It was in Chicago that Sharp truly began to blossom, increasing his scoring dramatically and soon becoming one of the alternate captains for the Blackhawks. His hard work paid off big in 2010 when he helped lead the Blackawks to win the Stanley Cup over his former team, the Philadelphia Flyers. During the playoff run that year, Sharp scored a total of 11 goals and 11 assists. After an All-Star Game appearance, Olympic gold medal win, and two more Stanley Cup victories, Sharp saw himself leaving Chicago for the first time since 2006 after being traded to the Dallas Stars on July 10, 2015 due to salary cap issues with the Chicago Blackhawks.
In joining the Dallas Stars, Patrick Sharp has joined a primarily young and hungry team on the rise and will provide plenty of Stanley Cup experience to help lead his team to glory. Since his arrival in Dallas, Sharp has played on the all-star first line alongside the likes of Jamie Benn and Tyler Seguin.