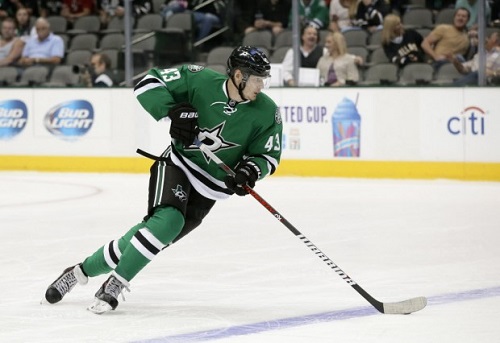 Among the many new faces in the Dallas Stars locker room is the 18 year old Russian rookie right winger Valeri Nichushkin, just one of the many young talents they've brought on to breathe new life into the Dallas Stars franchise.
Nichushkin was the Stars' first pick (10th overall) in the 2013 NHL draft and already has several NHL games under his belt, starting on the Stars roster in the first Stars game of the 2013-2014 season against the Florida Panthers.
Background
Valeri Nichushkin was born on March 4, 1995 in Chelyabinsk, Russia. His first time playing in the big leagues was playing for Traktor Chelyabinsk's U18 team in the 2010-2011 season, representing his home country in the U16 Four Nations Tournament. Nichushkin did very well, amassing 45 goals and 45 assists in 46 games. Along with that, Nichushkin has played with the Belye Medvedi Chelyabinsk in the MHL in the 2011-2012 season and made his KHL debut at the age of 17 years old last season playing for the Traktor Chelyabinsk and its second team Chelmet. OnMay 1, 2013, Valeri went from Traktor Chelyabinsk to HC Dynamo Moscow, signing a two year contract with the Dynamo which was later conditionally terminated allowing him to play in the NHL, or return to the Dynamo if he did not make it.
Valeri Nichushkin was drafted by and signed with the Dallas Stars, playing his first NHL game in the season opener on October 3, 2013 against the Panthers.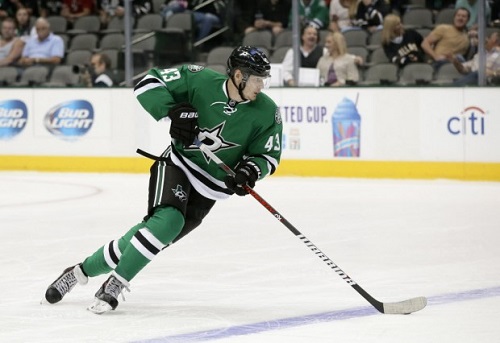 Analysis
So far this season, Nichushkin has one assist and three shots on net and has shown that he has a lot of potential and that he can hold his own even at his young age. Valeri has a pretty massive frame standing at 6 foot 4 inches and weighing in at 196 pounds. Nichushkin is a great skater and has a lot of speed as well. His past play has shown that he is very tough to stop when he has the puck, especially when it comes to 1 on 1. He understands exactly how the game works, speeding up play or slowing down when he needs to, and knows how to put the puck where other players can't reach it, making him an incredible player that is only gonna grow from here. Valeri not only scores close up, but when he can't get in close to the net, he has a laser shot that he can drive home from far away. He is still getting used to playing in the NHL and building up his strength for professional play, but when he reaches that point, I think Valeri Nichushkin will easily become one of the best players in the league, very much like Evgeni Malkin. So far the only place for this guy to go is up, and I think that's exactly what he'll do.