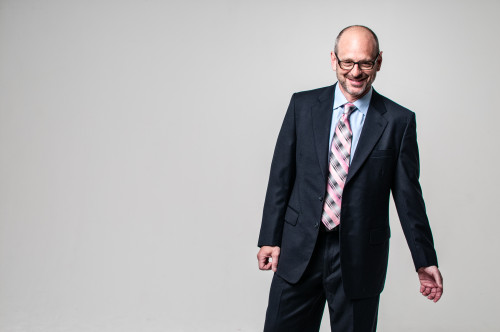 Sports fans are often used to seeing players come and go, knowing that it's just a part of the game. Stars fans have seen players like Brett Hull, Brad Richards, Jaromir Jagr, and many others pass through the organization, but for the last 25 years one thing has remained the same: Ralph Strangis.
Ralph joined the Stars organization in 1990's with the Minnesota North Stars, serving as the color analyst alongside Al Shaver. He did this until 1993 when the North Stars moved south and became the Dallas Stars. For the next three seasons he was the color analyst for Mike Fornes until he finally stepped in the position of play-by-play announcer and former goaltender Daryl Reaugh, thus beginning the era of Ralph and Razor.
Since then, Dallas Stars fans have always been able to tune into Stars games and hear the familiar voices of the duo, who seemed to go perfectly together, with Ralph providing excellent play-by-play and Razor always throwing in silly, yet accurate, analogies and commentary. That is, until Ralph announced this Thursday afternoon that he will be stepping down as the Stars' play-by-play announcer.
"It's my decision, and it comes at a time when I'm able to look at new opportunities and new challenges, and I just feel now is the time to do that," Strangis said. "My daughter is going to college, I'm single, I don't have a house…I have a lot of different interests, and this will give me a chance to look at my life and try something different."
Stars president and CEO Jim Lites said the Stars are saddened by his departure but supportive of his decision.
"We have so many great memories, and we hope he creates even more," Lites said. "We sincerely wish him nothing but the best."
Strangis is one year into a contract extension he signed during the last offseason, but says the Stars organization has been very helping in making sure he has a positive exit.
"I just want to thank Tom Gaglardi and his family, and thank Jim Lites, because they have been very helpful in this process," Strangis said. "They have made it known that they are behind me and that I'm always part of the family here, and that was important for me."
Strangis has many options he can look into pursuing, from theater and film, to non-sports television and writing, all things that he has worked in while with the Stars, and will now have the opportunity to give more time and focus to if he decides to. No matter what direction he chooses to go in, he is looking forward to it and Stars fans wish him the best of luck and happiness.
"I just want to look and see what's out there," he said. "It could be hockey, it might not be hockey. That's the thrill of it."
Love Reading About Hockey?

Subscribe to keep up-to-date with the latest and most interesting hockey news!
| | |
| --- | --- |
| | We hate spam just as much as you |