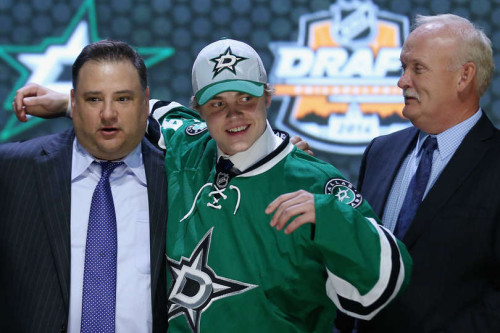 Anyone who has kept up with the Dallas Stars in the past year or so would know that the Stars are a team currently rebuilding and looking to return to their former post-season prominence. While this rebuilding process can sometimes take years to do, the Stars are already showing great signs by once again returning to the playoffs at the conclusion of the 2013-2014 NHL season. The stars will look even stronger with GM Jim Nill making several smart moves in the offseason to ensure that his team will see playoff action for more seasons to come.
Nill selected Julius Honka, a Finnish defenseman whose play is likely to be reminiscent of players such as Trevor Daley and Sergei Zubov, which will help improve in areas that the Stars have been known to lack in. Honka not only shows great defensive skill, but is a skilled skater and known to have great offensive decision-making. Honka is likely to play next season in the Finnish Elite League, but will be playing in Dallas' prospect camp and could possibly earn a spot on the Dallas Stars or their AHL affiliate, the Texas Stars, if he is deemed ready.
If that wasn't exciting enough for Dallas Stars fans, Jim Nill made a big splash on the first day of free agency when he made an early trade that saw Jason Spezza becoming a Dallas Star. Adding a player such as Spezza will give the Stars more offensive depth as well as add another great center who will join the likes of Tyler Seguin and Cody Eakin in the position. In addition to acquiring Spezza, Nill soon signed Ales Hemsky, a strong winger who not only played alongside Spezza on the Ottawa Senators last season but also spent plenty of time with Shawn Horcoff while on the Edmonton Oilers. Hemsky is a player that can regularly put up a decent amount of points for his team on a normal basis. The third forward signed by Nill thus far was Patrick Eaves, who spent last season on the Detroit Red Wings and Nashville Predators.
In addition to the three forwards signed onto the Stars was Anders Lindback, formerly of the Tampa Bay Lightning, a goaltender who is likely to be backing up head goaltender Kari Lehtonen. A big struggle the Stars had last season was the unpredictability of backup goalie Dan Ellis and the struggle for Tim Thomas to adjust to the Stars' playing style after he was acquired in a trade that sent Ellis to the Florida Panthers.
Not only will there be several new faces in the Stars dressing room next season, but many familiar ones, with the Stars recently announcing the re-signing of veteran forward Vernon Fiddler to a two year contract. The Stars have also reportedly offered contracts to restricted free agents Antoine Roussel, Cody Eakin, and Brenden Dillon, among others.
While some may have doubted the capabilities of the Dallas Stars making a return to prominence, many are now changing their tune and running with their tails between their legs as the Stars have suddenly become serious contenders in this coming season.