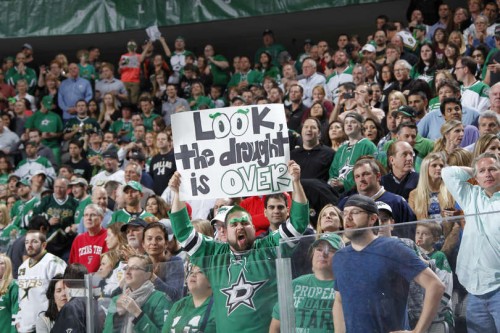 When you live in Lone Star State you get pretty used to droughts, but one type of drought that Texans just can't stand are playoff droughts for their sports teams. With the Dallas Cowboys being less than spectacular, many fans have been looking for their other teams to pull through for them.
The Dallas Stars are one Texas team that experienced plenty of playoff success from the late 90's all the way through the 2000's, even landing themselves the Stanley Cup in 1999, but their success came to a halt five years ago. After a deep playoff run in 2008 that saw the Stars losing the Western Conference Final to the eventual winners, the Detroit Red Wings, they just haven't been able to make it back, missing the playoffs every year since.
Season after season the Stars work hard to make the playoffs, but end up missing it right at the tail end of the season. That has all changed this season, as the Stars have clinched their first playoff berth in five years when they defeated the St. Louis Blues 3-0 in a triumphant win that has had Dallas fans jumping in joy and reaching for their wallets to purchase playoff tickets and see their boys fight for the greatest trophy in professional sports.
Before the start of the season many Stars fans weren't so sure about the direction of the Stars, as new owner Tom Gaglardi had made big changes, both to the roster, front office, and logo/jerseys. Fans saw some of their favorite players, such as Brenden Morrow, Steve Ott, and Loui Eriksson, leave Dallas in moves that many questioned. After tonight many fans are thanking Gaglardi, as he has achieved what he set out to do. Well, mostly. This is the first step in the right direction for the Dallas Stars, who won't give up until they are enjoying the sweet taste of victory from Lord Stanley's Cup.