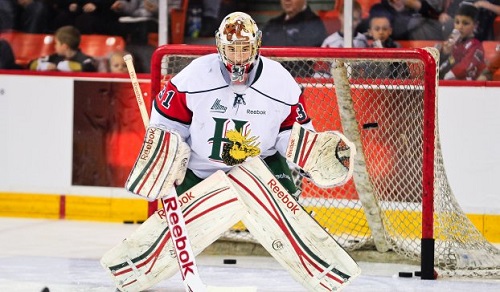 Team Canada hasn't won the gold medal at the IIHF World Junior Championships since 2009 and last year's fourth place finish ended a streak of 14 years with any color medal. This team, more than any other, will be under a lot of pressure to return Canada to their glory of the mid-2000's where six straight golds made Canada seem invincible. And no players are under more pressure than the guys between the pipes.
One is a young goalie that has already won junior hockey's biggest trophy. The other is a returning veteran who has been keeping his junior team afloat. Together, Zach Fucale and Jake Paterson are Canada's last line of defence and will be counted on to play big game if Canada is to win gold.
What's interesting is neither goalie has ground breaking numbers so far this year. Fucale is widely expected to be the starter for Canada, even though he is a year younger than Paterson. His 19-7-1 along with two shutouts are a big reason the Halifax Mooseheads are poised to make a second run at the Memorial Cup. But his 0.902 save percentage and 2.51 goals against average are merrily average compared to other CHL goalies.
But it was his performances last year that solidified Fucale as the highest drafted goalie in June. To lead Halifax to the Memorial Cup, Fucale posted a 45-8-2 record with two shutouts. But again his save percentage and goals against average were only slightly better at 0.909 and 2.35 respectively. But he did come up big in the playoffs, going 16-1 in the QMJHL playoffs. Of course he was playing behind Nathan Mackinnon and Jonathan Drouin, but 16-1 is still an unheard of record for the playoffs.
Besides stats though, what makes Fucale a good goalie is his ability to move. His 6'2, 180 pound frame is very flexible and he is very good at moving from post to post. Fucale was drafted 36th overall by the Montreal Canadiens earlier this year. After the draft, Montreal GM Marc Bergevin talked about why he wanted to pick Fucale.
"I was happy that he was still there," Bergevin said. "It's been a while since we drafted a goalie and I thought the time was right for a goalie of that quality so we jumped right on it."
And this video from YouTube's DumbassShello shows why Bergevin, and Canada, should be excited.
While it appears Fucale will be starting for Team Canada, Paterson won't be benched without a fight.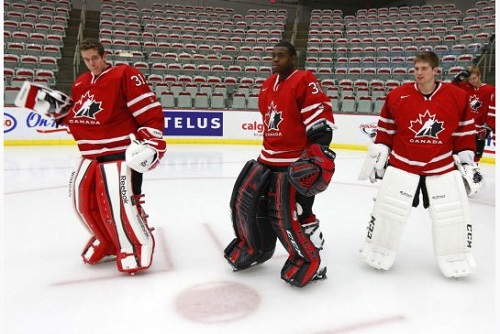 Paterson's road to Team Canada was different than Fucale's, having been the third string on the team last year. Paterson's OHL team, the Saginaw Spirit, haven't been championship caliber in recent years, always finishing between 5th and 8th in the standings since they won their division in 2010. And this year is no different. But that fact does make Paterson's spot on this team stand out.
His 10-9-2 record has Saginaw sitting sixth in the OHL's Western Conference. And his 3.72 goals against average and 0.898 save percentage are hardly impressive numbers. But it's how he makes his saves that make Paterson a goalie Canada wants this year.
Paterson was a third round pick of the Detroit Red Wings in 2012. After drafting him, Detroit head scout Joe McDonnell told Red Wings Central what attracted the Red Wings to Paterson.
"He's one of those goalies who looks bigger in the net. He covers the net well, he covers the bottom of the net real well and he's very athletic."
As the video below from Spirit Hockey shows, Paterson is very athletic and has great vision. He can see through crowds and track the exact position of the puck so that he is always one step ahead of the shooter.
Last year, he made Team Canada after an impressive camp but didn't end up starting a game and instead watched Malcolm Subban and Jordan Binnington from the stands. Now he has a chance to get in a game and represent his country. Although his numbers are not spectacular, stronger defence from the Canadians should limit the number of shots he faces.
It will be a tough tournament for both of Canada's goalies. The pressure will be on to deliver a gold after a four year drought. With only 15 days to go until the first game against Germany, we will know soon enough if these goalies are up for the challenge.