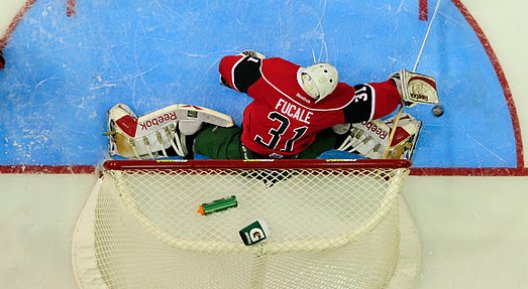 Back in June I profiled Mike McCarron, who the Montreal Canadiens took 25th overall at the draft. But they also drafted seven other players that could one day play for the team. So let's meet these other new Habs.
Jacob de la Rose- 34th overall- Leksands (Sweden)
Skill is always something teams try to add and de la Rose brings that and more. Standing at 6'2, this winger will add size to the offense when he makes the jump to the top six.
"I think I'm a good two-way forward who works hard every shift, every game. I try to be the hardest-working guy out there and I think I'm a leader who leads by example," de la Rose said to canadiens.com. "When I was younger, I played center but now I play wing to make the most of my abilities. My coach put me on the wing to use my skating and my size to throw hits."
"You guys are going to like this guy," head scout Trevor Timmins said. "He brings it every shift of every game."
Last year, de la Rose scored six goals and six assists with limited ice time in Leksands and will return to that team for the final year of his contract in the fall.
Zach Fucale- 36th overall- Halifax Mooseheads (QMJHL)
Two picks after de la Rose, the Canadiens drafted the top ranked goalie in the draft with Zach Fucale. This native of Rosemere Quebec had an amazing season with the Memorial Cup champion Mooseheads, putting together a 45-5-2 record with two shutouts.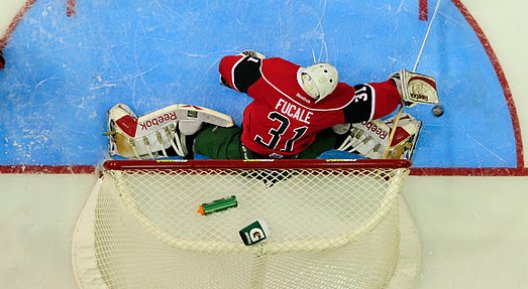 "It's just one day; I'll celebrate tonight but the next step is the development camp next week and then it's about working hard on development to get closer to my goal," Fucale said to canadiens.com. "I grew up in Montreal and every young hockey player in Montreal dreams of playing for the Canadiens. Today is the day I put [the jersey] on for the first time and I'm going to work hard to make sure I earn the right to put it on again."
Habs GM Marc Bergevin was really excited to get Fucale.
I was happy that he was still there," Bergevin said. "It's been a while since we drafted a goalie and I thought the time was right for a goalie of that quality so we jumped right on it."
Next year, Fucale will return to Halifax and could see himself on the Canadian U-20 World Juniors team this Christmas.
Artturi Lehkonen- 55th overall- Kuopio (Finnish Elite Lead)
Like de la Rose, this 18-year-old forward is skilled and experienced. He's already playing with men in the Finnish Elite League and last year, he picked up 14 goals and 30 points in 45 games. This earned him rookie of the year honours and caught the eye of the Montreal Canadiens.
"He's 5'11 but he's a world class player," said Timmins. "He was the go-to guy for the Finnish under-18 team and he was their best forward. He needs time but he has time over there, playing in the Finnish Elite League."
"I had a chance to play with great players. I got to play on the first line with our team and it went well," said Lehkonen. "I think I'm good with the puck and I have a good shot. I like to shoot a lot and I think goal scoring is kind of my thing."
Lehkonen trains during the summer with former Hab Saku Koviu and will continue to develop his game in the Finnish Elite League.
Connor Crisp- 71st overall- Erie Otters (OHL)
In the third round, the Habs went back to size taking the 6'4 Crisp. With a weak Erie team last year, Crisp had 22 goals and 36 points while playing on the top line. But Crisp's job on the top line was to protect future top prospect Connor McDavid, which is why he had 139 penalty minutes. This was Crisp's second year of draft eligibility after an injury limited his playing time in 2012.
"He's a heck of an athlete and he's tough," Timmins said. "He was out there to protect McDavid but if you look, he scored quiet a few goals too."
Crisp will return to Erie to continue defending McDavid this season.
Sven Andrighetto- 86th overall- Rouyn-Noranda Huskies (QMJHL)
The Swiss winger Andrighetto closed out the third round for the Habs and is another offensive guy who will add a lot in the future. After being passed over in the 2012 draft, Andrighetto had a big year for the Huskies, picking up 31 goals and 98 points in 53 games.
"It was always my dream to play in Canada and I had to take the step to go to Rouyn-Noranda," Andrightetto said. "I think it worked out and now I want to make the next step and join the Canadiens."
Next year, he will play his final overage season with the Huskies.
Martin Reway- 116th overall- Gatineau Olympiques (QMJHL)
The Habs went back the QMJHL in the fourth round and took another forward, this time left-winger Reway. The Czech native was coming off his first season in North America, where he had 22 goals and 50 points in 47 games.
"He's a home run swing, but if you talk to his coach in Gatineau, he will tell you some good things about him, Timmins said. "He's undersized but so was Gallagher. He's got that grit you need to survive at that size."
Reway will continue to develop his game in Gatineau next year.
Jeremy Gregoire- 176th overall- Baie-Comeau Drakkar (QMJHL)
With their final pick, in the sixth round, the Habs picked another French forward with Sherbrooke Quebec native Gregoire. Splitting time with Chicoutimi and Baie-Comeau, he picked up 19 goals and 32 points.
"I loved the way he completed in the playoffs," said Timmins. "He stepped up as a leader and he has got the will to find a way."
"The playoffs went really well for me, not just from a production standpoint, but also with the character I could bring, the leadership, the physical play and other things like that I was able to bring," he said. "Coming in late, I wanted to earn my spot in the lineup and prove myself."
Gregoire will also return to the QMJHL to continue to develop his game.